Summary: If you're new to Google Analytics 4 or unsure of what it is, don't worry, we've got you covered. This webinar recap blog offers a helpful overview to get you up to speed.
Have you installed Google Analytics 4 but never used it, or are you wondering what Google Analytics even is? Then this webinar recap blog is just what you need!
WSI Certified Digital Marketing Consultant Melanie Gard has been part of the WSI family since 2009. She has been a business owner and entrepreneur for over 20 years, is a gifted speaker, and is known for her ability to break down more complex and technical topics into easily understandable concepts. Mel recently co-hosted a webinar titled Unlocking Google Analytics 4 for Better Business Insights to help educate the business community on the importance of this transition from Google Universal Analytics (UA) to Google Analytics 4 (GA4). In the webinar, Mel highlights why this change from UA to GA4 is even happening, the biggest differences between UA and GA4, the key analytics metrics that every business needs to know and understand, common GA4 setup mistakes you need to avoid, and lots more.
If you missed our live session on June 13th, you can watch the webinar recording and download the slides here for all the information or read our webinar recap below.
What is Google Analytics, And Why Do We Need To Change To Google Analytics 4?
Do you want a comprehensive view of your customer's online behavior and your return on investment (ROI)? Do you want to know which platforms and devices your clients use? Google Analytics, also known as Universal Analytics (UA), is like a one-stop-shop of customer information from your website and other platforms. It provides valuable data that help you measure your marketing and improve your business.
And (GA4)? GA4 is the latest version of Google Analytics (GA), and it is a game-changer for businesses that want to understand their customers better. With GA4, businesses can get a comprehensive view of their customer's online behavior and track their ROI across multiple platforms and devices. GA4 moves away from cookie-based measurement to event-based measurement, making it compliant with privacy laws such as the European Union's General Data Protection Regulation (GDPR), South Africa's Protection of Personal Information Act (POPIA), Canada's Personal Information Protection and Electronic Documents Act (PIPEDA), California's Consumer Privacy Act (CCPA) and many others.
Are you using Google Analytics but have not migrated to GA4? Then you need to know that time is running out! Google Analytics stops collecting data on July 1st, 2023, so your website and app traffic data will stop populating, and your remarketing ads will stop running.
Biggest Differences Between GA And GA4
You might be wondering why Google Analytics 4 is even necessary. Many privacy laws around the world prevent browsers from using third-party cookies to gather personal information—and because GA4 moves from cookie-based measurement to event-based measurement, advanced GA4 tracking ensures that businesses are staying compliant with the privacy laws in their regions.
Pro Tip: You can learn more about the impact of the General Data Protection Regulation (GDPR) and the California Consumer Privacy Act (CCPA) in your marketing efforts from our blogs.
In our webinar, Mel highlights eight big differences between UA and GA4, but one of the most practical (and exciting!) is that the interface and reports are fully customizable. Using GA4, businesses can tailor their reports and dashboards to their specific needs and track only what is important to them.
In addition, GA4 is free to use, making it accessible to businesses of all sizes. And who doesn't love free?
Furthermore, GA4 is Google's answer to future-proofing analytics for artificial intelligence (AI), making it an essential tool for businesses that want to stay ahead of the curve. In the next few years, businesses may have the option to ask their GA4 interface questions, and AI will provide the answers (a feature that is already available to help create Google Ads campaigns)!
How Can GA4 Help Your Business?
The most vital question that every business owner asks is: how can Google Analytics 4 (GA4) help my business? And it helps you in the following ways:
Enables you to optimize your marketing budget by providing insights into which strategies are delivering the best results. By understanding your customer's behavior, you can tailor your marketing efforts to target the right audience, increasing your chances of conversion.
GA4 provides valuable customer insights, helping you understand who your customers are, how they find you, and how they interact with your content. This information can be used to improve your website and marketing efforts, making them more effective and efficient.
GA4 ensures that your business remains compliant with privacy laws, such as GDPR, CCPA, and POPIA. By moving away from cookie-based measurement to event-based measurement, GA4 provides a more secure and privacy-conscious way of tracking customer behavior.
GA4 allows you to customize reports and dashboards relevant to the needs of your business, making it easier to track the metrics that matter most to you. This can help you make data-driven decisions and optimize your business operations.
Overall, GA4 is a powerful tool that can help businesses of all sizes make better decisions and achieve their goals. By leveraging the insights provided by GA4, businesses can gain a competitive advantage and drive growth and success in the long term.
The 7 Top Metrics You Need To Know
You really need to watch the video on our webinar resource page to understand the top metrics and why they're so valuable. Mel does a great job explaining them in more detail and reviews key spots in your Google Analytics 4 dashboard, like the Home tab, the Insights & Recommendations tab, and the Reports tab. Within the Reports tab, Mel highlights the sections for Acquisition, Engagement, and Monetization. Mel also discusses the Acquisition tab in more detail, as this is where every business should spend time analyzing and getting information on how people find your business and what conversions they do.
What are the top metrics you need to understand?
Users
New User
Sessions
Event
Engagement
Conversion
Revenue (eCommerce)
Six Mistakes To Avoid
In learning a new platform, you're bound to make mistakes. The good news—we've already made many of these mistakes, so you can take advantage of our learning and avoid them for your business!
If you're curious about what to avoid, the webinar highlights the six most common mistakes that users make when you're setting up your GA4 instance, such as not leveraging custom reports and metrics, not adjusting how long Google retains tracking data, and not removing unwanted referral traffic.
If as you're reviewing all this info, you are feeling overwhelmed by the thought of setting up Google Analytics 4 for your business, we have some good news! WSI offers a downloadable resource, Google Analytics 4 Setup Guide: A Practical Checklist for Businesses, to help make your process easier.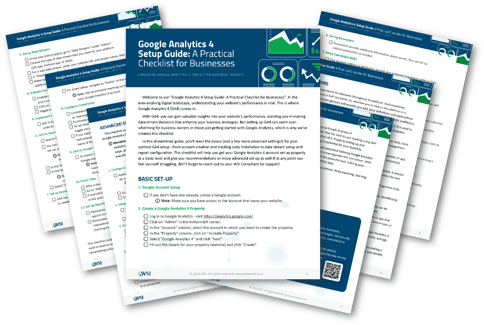 This setup guide is designed to help all Google Analytics newbies set up GA4 properly. It provides a practical checklist for businesses that want to make their process easier and offers recommendations on more advanced setup features, so you can get the most out of GA4.
Whether you're feeling overwhelmed or just need some guidance, this setup guide is here to assist you; plus, you can always revisit our webinar recording and presentation slides for more assistance.
Don't let the fear of the unknown hold you back from unlocking the full potential of Google Analytics 4. Our team of WSI Certified Digital Marketing Consultants is here to help you every step of the way. From setting up your GA4 instance to analyzing key metrics and providing recommendations for improvement, we are here to support your business growth. Simply reach out to us today, and let's work together to take your business to the next level with Google Analytics 4.