As WSI's Digital Power Hour Webinar Series continues with 2015's second instalment, we're shifting our focus to the consumers (otherwise known as that group of people you're trying to turn into customers!). My name is Dennis Masella and on April 28, I'll be running our next session, Increase Your Brand Promotion: 3 Strategies to Make Your Customers Take Notice.
In advance of my upcoming webinar, I'm going to briefly review some underrated tactics for attracting consumer attention in hopes of piquing your interest enough that you'll plan to attend my in-depth and actionable presentation on April 28 at 11am EDT.
Experiment With AdWords Extensions
Google AdWords campaigns are a great medium for bringing attention to your website and promoting your brand. However, the text ads are very limiting. Google limits you to 25 characters for the headline, 35 characters for the each line of text, and a URL to your landing page. To make this successful you have to do a lot right in a small amount of space. In other words, there's little room for error (and lots of room for a leaky bucket).
There are numerous ways to increase the effectiveness of your ad, such as painstaking keyword research and killer ad copy. But what if you could add extra content to your add that gave consumers more details about your brand and offer? Google has been adding more and more extensions, which as the name suggests, allow you to extend the length and quality of your ad. The kinds of extensions you can add include location, sitelinks, third party reviews, phone numbers and callouts.
Below is the ad area of a Google search engine results page for the term "new hampshire lawyer" (a highly competitive term).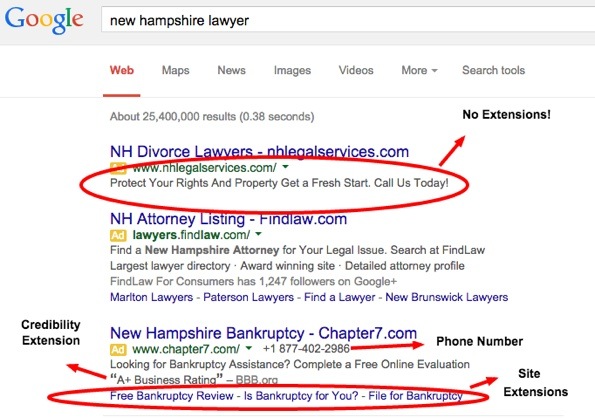 These results show an ad that is taking full advantage of extensions (the bottom one) and an ad that is missing out on the opportunity to enhance their ad (the top one). The Chapter7.com ad has a phone number, a third party credibility extension and multiple site links to different areas of their web property. This add is not only a callout for people looking for information on bankruptcy in New Hampshire, it's also a roadmap to getting to know Chapter7.com.
By contrast, the nhlegalservices.com ad leaves a lot to be desired. First, the only link goes directly to their homepage (which is not an ideal landing page for an offer). Second, the ad asks consumers to call them - but doesn't provide a phone number! Even though Chapter7.com is the bottom add on this page, we have no doubt that because of its extensions, it drives the best results.
Leverage The Tenacity of Remarketing
WSI has talked about the magic of remarketing before, and it certainly deserves mention in any discussion of tactics for gaining consumer attention. As a quick refresher, remarketing lets you show ads to consumers who have previously visited your site or mobile app while they surf other sites in Google's Display Network. There is no better way to stay top of mind and actively market to people who have, though their previous search actions, expressed an interest in your products or services. Remarketing is a tenacious tactic (in the very best sense of the word).
Here are the different types of remarketing:
Standard: Show ads to your past visitors as they browse Display Network websites and use Display Network apps.
Dynamic: Show dynamic ads to past visitors with products and services they viewed on your site as they browse Display Network sites and use Display Network apps.
Mobile: Show ads to people who have used your mobile app or mobile website as they use other mobile apps or browse other mobile websites.
Search Ads: Show ads to your past visitors as they do follow-up searches for what they need on Google after leaving your website.
Video: Show ads to people who have interacted with your videos or YouTube channel as they use YouTube and browse Display Network videos, websites and apps.
Facebook: Show Facebook ads to people who have visited your site.
Remarketing is one of the most important advances in digital marketing. The fact is, consumers always get distracted. Think about the times you've searched for something and found a great site that sells exactly what you need. And then the phone rings or an important email comes in. Time slips by and you close your browser. But later, while you're reading an article, you come across a display ad for the product you were looking at earlier. Like magic!
Recently, my wife and I were looking for ceiling fans and here is the result. Now wherever I go, fans!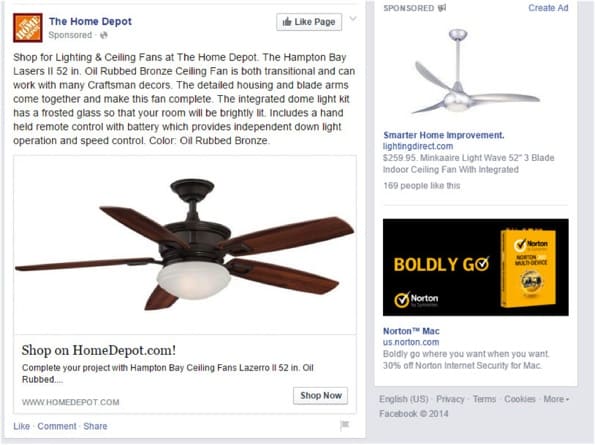 Make Sure You're Mobile Ready
By now, you've probably heard all about April 21. If you haven't, I suggest researching everything you need to know about Google's mobile update as soon as you possibly can. To sum it up in one sentence: Google is making big changes to mobile search results in order to deliver a better searcher experience.
The major takeaway from Google's latest update isn't that you need to make your site mobile-friendly (it is a priority, but there are plenty of people who can help, including WSI). Instead, we're urging businesses and marketers to look at the big picture. Google's mobile algorithm update is a wake up call for anybody who doesn't think more changes are coming. Embracing technology, adapting early and remaining agile are the new keys to future success in business. Regardless of your industry or the length of time you've been operational, the advanced development of mobile and other technologies will not only alter the way we do business, but also the way we live.
---
As mentioned, I'll be discussing more ways to grab consumer attention during WSI's next webinar on April 28 at 11am EDT. You can register now to attend. Additionally, if you've got any questions or concerns about Google's impending mobile algorithm update, contact us now.