No matter what it is, the quickest way to achieve success is to be the best. Wayne Gretzky. Nike. Mark Zuckerberg. Whether you're an athlete, a company or an entrepreneur, the path to the top leads right through your competitors. This means that no matter what, you always need to strive to be better than the other options available to your customers.
When it comes to content marketing, some companies - and even marketers - aren't striving to be the best. In fact, they aren't striving for anything. Many companies are simply shifting some of their marketing dollars to content because they think they have to. "Everybody is doing it, so we'll do it for a while and see what happens." If this is you or you're company, you're making a mistake. Probably many mistakes.
Thanks to becoming the buzziest digital marketing term of 2013, yes, everybody is likely engaged in some sort of content marketing. But a lot of stuff out there just isn't very good. Let's say 10 companies in your industry are investing in content marketing. 8 out of the 10 companies have a similarly thrown-together, last-minute strategy while 2 took the extra time to create out-of-this world content marketing gameplans. How many of the 10 companies do you think will achieve "success?"
The answer is 2. Just because all 10 companies are investing in content marketing, doesn't mean it's working for all of them. If you expect your marketing efforts to work, they need to be the best. Otherwise, you'll get lumped in with the underwhelming masses.
If all of that sounds a bit daunting, don't worry, we've got you covered. Our How To Fix The 5 Content Marketing Mistakes You Might Be Making whitepaper is the perfect remedy for ailing content marketing strategies. Not everybody has the talent to naturally become the Wayne Gretzky of their arena, but with a little help, even the most unsuspecting underdogs can rise to the top.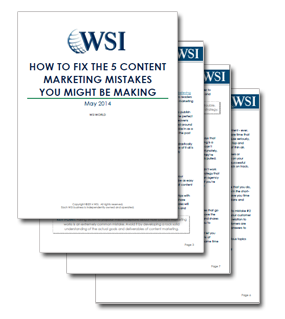 That's what our whitepaper is here to do: help identify the weaknesses of your content marketing strategy and provide everything you need to strengthen it. Get full access to the How To Fix The 5 Content Marketing Mistakes You Might Be Making whitepaper and you'll be well on your way to leapfrogging your competitors and seizing the spotlight. Coupled with our blueprint for creating buyer personas, some advanced tips and really hard work, you can develop an elite content marketing strategy that will last many years into the future.
What's Inside
The Myths of Content Marketing: most content marketing mistakes can be attributed to belief in the myths and misconceptions about how the tactic really works. Unfortunately, the buzz and popularity of content marketing has a very strong pull, and too many companies are getting sucked in without truly understanding the requirements of a successful strategy. We'll separate fact from fiction and highlight how content marketing really works.
The Problems and the Solutions: even the best make mistakes. Facebook is popular, but it's not perfect. Nike has had its share of poor commercials and unsuccessful products. You've probably made some of the content marketing mistakes we've outlined in our whitepaper, but the good news is we show you how to fix everything and get back on track. So get reading, you can always thank us later!