Summary: Instead of searching for hundreds of SEO tips from digital marketing gurus, go straight to the source. Here are 4 great Google SEO guidelines straight from Mountainview.
The process of increasing your online visibility is referred to as search engine optimization or SEO for short.
It's easy to understand why website owners get confused about how to improve the results from their digital marketing efforts by fully leveraging assets such as their website.
In the past, SEO meant focusing on where you ranked for certain keywords. However, these days it's about building your overall digital audience whether that be on your website, email marketing list or social media networks.
An easier way to understand it is to think of SEO as the process of building targeted and relevant traffic to your website.
The problem with SEO is there is so much conflicting information about what works best, it's hard to start.
For instance, if you Google the phrase "SEO advice", you'll get 12.6 million results.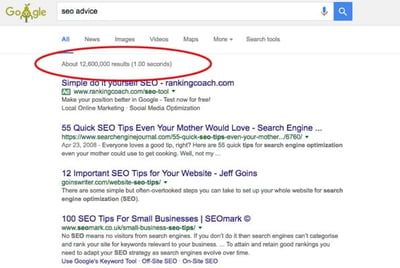 The first result has 55 "quick" tips. The #3 result has 100 tips.
Too confusing?
How about a different phrase? Let's try "get more website traffic":
208 million results!
It's exhausting just searching for help.
Here's a new idea.
Instead of searching for hundreds of SEO tips from digital marketing gurus, why not go straight to the source? Why not ask the people who have the best, most powerful search engine in the world?
That would be Google in case you're wondering!
Over the last couple of years, Google has given website owners unprecedented guidance on how to build a "good" website and be rewarded with more website traffic and higher visibility. However, despite this simple and clear guidance, many people continue to overlook these critical fundamentals and then proceed to wonder why they can't find their site in searches.
The longer we work in the world that is now called digital marketing, it's becoming glaringly obvious that the more things change, the more they stay the same.
SEO Advice Straight from Mountainview (Google Headquarters)
All of the foundational SEO strategies we've been doing for years are still highly effective and really haven't changed much. I refer to them as SEO "blocking and tackling".
The main thing that's changed in 2016 is that most of them are now officially sanctioned by Google via their Webmaster Guidelines.
Here is a summary of the most important SEO factors in 2016:
Good site structure including easy to navigate pages
Website loads quickly and is secure
The website provides a good mobile responsive experience
Unique content and metadata for each page
Structured data (schema markup) to identify the type of website page
Well written and original that is valuable to readers
Verify your site with Google's My Business (also called Google Plus or Google Local)
As if this detailed guidance wasn't enough, Google has rolled out an army of free tools which website owners can utilize to monitor, test and improve their websites.
The essential Google toolkit includes:
Google Analytics
Google Webmaster Tools
Google My Business
Google PageSpeed Insights
Google Mobile Friendly Test
Google Structured Data Testing Tool
Google Structured Data Markup Tool
Your 3 Step 2016 SEO Action Plan
Step 1 - Review the Important Factors list above
Try out the free tools for yourself. Most of them are designed to produce easy to understand results. And while the chances are you won't know how to implement structured data on your own, you can check if your site loads quickly and is correctly verified with Google.
Then, take an impartial look at your website. If you were searching your website for the first time, would you find the website easy to navigate and the content of real value?
Step 2 – Tackle the Remaining List
After going through the checklist you should be able to see which items are OK and which items need work. Work with your host and web developer on things like load speeds, security and mobile responsiveness. Maybe enlist the help of a digital marketing consultant to improve your website structure and content as well as help you understand the nuances of structured data and Google My Business listings.
Step 3 - Content, Social Media Marketing and Tracking
Once you've gone through this list and have good SEO fundamentals you should definitely start to see results in terms of increased traffic and more leads.
Good foundational SEO will take you a long way.
But if you'd still like to do more than the foundational elements, you'll need to evaluate more advanced SEO strategies which include content creation, social media marketing, tracking and measuring.
If you'd like to learn more about these advanced strategies, ask your local WSI digital marketing consultant about our proprietary AdaptiveSEO approach. We'll be happy to show you how content, social media and reporting build on foundational SEO strategies for best results.