It's time to stop ignoring the importance of mobile marketing. Smartphones and tablets have infiltrated every corner of our lives, and businesses need to realize that devices are only getting smaller and more mobile. Shopping, communicating, consuming entertainment and many aspects of business now take place across multiple screens.
This mobile future is unavoidable. And who knows how close we are to the future imagined in Spike Jonze's film Her, which isn't just a movie about a man dating an operating system. The film's underlying commentary on the Singularity is interesting, thought-provoking and, at times, downright scary. But the facts remain: the beginning of a truly mobile era is underway - and you don't even need to take our word for it.
We've scoured the web for the most relevant and helpful snippets on mobile marketing and why it needs to be part of your overall strategy. The extracted information is what we deemed most valuable in condensed form, but the full articles have been linked and attributed to their original source.
"For now, the most important thing we can do is be aware. I've always encouraged browsing your "money" terms – what does your URL really look like on a SERP, and how does the feature set impact it? I'd strongly encourage the same for mobile – open a phone browser and really try to see what the consumer is experiencing. If your business is primarily local or an impulse buy driven by TV and other advertising, the time to consider mobile is already behind you. For the rest of us, the mobile future is unfolding now."
What we like most about Dr. Pete's approach is his encouragement that we all put ourselves in our customers shoes. The customer experience is something many businesses don't consider and analyze often enough, but when you think about it, what's more important than knowing what it's like to be a customer? Not much. Grab a mobile device - we know you use one personally, if not for business - and try you own company's mobile experience on for size. If there's any sort of frustration or a noticeable lack of cohesion in your brand's presence from device to device, then you know you've got work to do.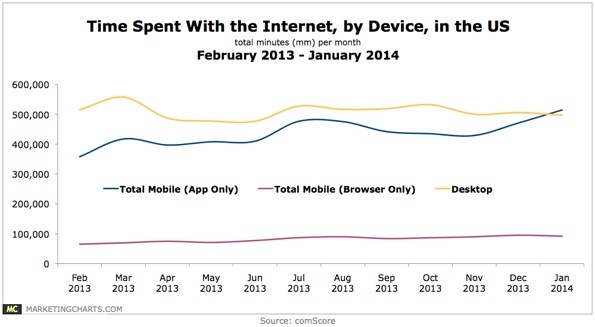 Chart from MarketingCharts.com
"It has taken considerable time for businesses and brands to embrace the potential of the Internet. Many businesses and brands struggle to truly leverage the digital landscape to meet the expectations of their customers. Many more will struggle with the migration of customers to mobile. The time has come to seriously consider integration of mobile-friendly versions of all mission-critical assets: applications, data, the website, communications, demos, sales materials and customer service."
It's tough to say, but many companies still struggle to deliver a fully optimized, easy-to-use website. Throw the need for responsive design into the mix - because more people use the Internet from smartphones and tablets than desktops - and there's potential for a whole lot of confusion. The good news is you can get caught up once and for all by reading our resources, consulting the great articles linked in this post or reaching out to an expert for help.
"It's amazing how many conversations about mobile strategies and content marketing in general happen in the absence of audience data. The greater the depth in terms of your understanding of your audience's mobile habits, the more compelling your content will be. But specifically, understanding the makeup of their mobile universe will help you create content that feels native – rather than retroactively shoehorned to fit in."
This tip by Jayson seems like common sense, but we'd wager that most companies don't track or measure their audience's mobile habits. If you're just getting into the mobile game, it's a great idea to start with your audience and develop a mobile strategy based on them. Maybe your mobile customers engage with your stuff on the commute to work, meaning you can still focus on longer-form mobile content. But if your audience is mainly engaging while they're waiting in line for morning coffee, you have to do something memorable in very little space (so more video content, for example). What works for one company might not work for another. As we're fond of saying, "it all depends."
Of course, we'd be remiss if we didn't mention our very own DM Video Series entry that outlines 5 key mobile trends for you to watch and master. We know what we're talking about, too! We also created a fantastic infographic that we feel is worth a look. We created a whole slew of mobile marketing resources in August, so don't forget to check'em out!
The First Step
We've curated this list of mobile marketing resources in hopes that it'll help you take that first foray into the mobile wilderness. We know it's not easy, especially if you've been hoping to avoid mobile marketing at all costs, but that's no longer an option. The articles we've highlighted do a great job of outlining why mobile marketing is so important for you and your business. We don't want to overwhelm you, so take it slow. Once you've learned the basics and theory of mobile marketing, come back and we'll help you on the next leg of your digital journey.