Summary: There's no secret combination or magic number of how many designers, curators or analysts to add to a Social Media Department. There are many ways to build your team, which will be unique to your company's budget, goals, industry and capacity for training.
Editor's Note: This blog was originally published in November 2019 and has been republished with new content on July 2023.
The last time I jumped on here, we looked at what a realistic social media team of today should be comprised of. To recap, it is not a good idea to stick an entire social media strategy on one junior Marketing Coordinator. Not unless you want your social strategy to accomplish the bare minimum and hinder your ROI while ultimately burning out your coordinator. Simply put, a full strategy deserves a full team.
A few weeks ago, the first group of professionals recommended for a full-service social media strategy team included:
A Social Media Manager
A Social Media Content Creator/Curator
A Social Media Advertiser
A Community Manager
Let's dive into a few more integral roles that would impact your brand's social team.
5) The Graphic Designer/Video Editor
I already talked about the content creator/curator you'll likely need as part of your team; this particular role is very similar but with full focus placed on visual content. So just as the content creator's copywriting will represent your brand voice, the graphic designer will oversee your brand image. It's important that this individual adapts alongside the ever-evolving video marketing landscape as well as the constant changes in design trends. (Google is a great example of a team who constantly tweaks their visual image). This is critical for keeping your social presence current and eye-catching.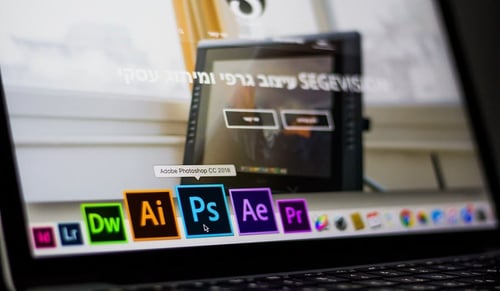 Skills: Naturally, this team member should be pretty well versed in social media practices and tactics; it's vital he/she understands how visual communication has an important role to play in the social world. Experience in the main design tools and software is key. I recommend looking for training in current design tools like those included in the Adobe Creative Cloud (Photoshop, Illustrator, InDesign, Muse, Animate...the list goes on!). We usually prefer to also review portfolios for visual communication roles like this one; it is a great way to assess a skill like their attention to detail.
Main Responsibilities:
Produces and edits visual content as it aligns with the content calendar and creative briefs
Develops graphic assets to accompany social content and advertisements
Oversees brand consistency in all visual assets
Produces images, illustrations, logos, videos, and animations
Stays up-to-date on evolving design trends and new tools or software
Collaborates with the Content Creator/Curator, Social Media Advertiser, and Community Manager to ensure cohesive brand representation
6) The Social Media Influencer Manager
This particular role is one of the newest professional positions to join many large marketing teams. It actually stems from the hugely profitable trend of collaborating with industry influencers. Your Social Influencer Manager will oversee your company's relationship with influencers in your industry and ensure these influencers' social content aligns with your own brand's vision, values, and objectives.
This individual is responsible for developing and implementing the overall social media strategy. They set goals, define the target audience, and identify the platforms best suited for reaching the company's objectives. The Social Media Manager also oversees the team's activities, ensures consistency in brand voice and messaging, and monitors the performance of social media campaigns.
Skills: First and foremost, it's imperative that your Social Media Influencer Manager understands your industry as well as your brand values inside and out. A full, bird's eye view enables this role to make valuable connections and build meaningful relationships with your influencers as well as your target audience. That said, you will want someone who has strong relationship-building skills and even stronger communication skills. A great candidate will consider themselves an expert in social marketing and have the know-how to manage several projects at once.
Main Responsibilities:
Defines and manages influencer activities and campaigns
Researches competitors, key influencers, and trends in your industry
Aims to align influencer campaigns to overall social media content calendar
Creates timely content for influencers
Monitors content shared by influencers to ensure brand alignment
Collaborates with Content Creator/Curator, Social Media Advertiser, and Community Manager to ensure cohesive brand representation
7) The Social Media Analyst
Well, you had to know this one was coming. I encourage every team to include at least one analyst; this is the individual who will provide insights that will define your direction. Please note this particular analyst doesn't necessarily need to be passionate about social media per se. Instead, their interests are in working with stats and data while understanding how social media impacts the business (and vice versa). To optimize social media efforts, a Data Analyst is essential. This role involves tracking and analyzing key performance metrics, such as reach, engagement, and conversion rates. By leveraging analytical tools and platforms, the Data Analyst provides insights into the effectiveness of social media campaigns, identifies areas for improvement, and helps the team make data-driven decisions.
Skills: In order to manage the dashboards and organize the data, your analyst should have knowledge of the social media management tools that the rest of your team will be using. Obviously, strong analytical skills come into play for this role; the ability to provide reports and essentially translate them for stakeholders is important for keeping everyone on the same page.
Main Responsibilities:
Maintains reporting dashboards on a regular basis
Prepares, analyzes, and presents key findings to stakeholders and team members
Provides daily recommendations for team activities to ensure goals are met (eg: sales, awareness, reach, etc)
Actively studies and stays up-to-date on trends, tools, and platforms
Collaborates with the whole Social Media Team
I hope this gives you a deeper view of what roles your own team might be lacking. Remember, these are just the basic, core roles to consider. There's no secret combination or magic number of how many designers, curators, or analysts to add to a Social Media Department. There are many ways to build your team, which will be unique to your company's budget, goals, industry, capacity for training, etc.
8) Social Media Strategist
The Social Media Strategist works closely with the Social Media Manager to develop comprehensive social media strategies aligned with the organization's overall marketing objectives. They conduct competitor research, identify emerging trends, and explore new opportunities for growth. The Social Media Strategist collaborates with other team members to ensure cohesive messaging and a consistent brand presence across all social media channels.
Main Responsibilities:
Goal Setting and KPIs: They work closely with the Social Media Manager and other team members to set clear goals and key performance indicators (KPIs) for social media campaigns. The Social Media Strategist ensures that the goals are specific, measurable, attainable, relevant, and time-bound (SMART), providing a clear direction for the team's efforts.
Content Planning and Calendar: The Social Media Strategist plans and develops a content calendar, outlining the types of content, topics, and posting schedules across social media platforms. They collaborate with the Content Creator and other team members to ensure that the content aligns with the overall strategy and engages the target audience effectively.
Audience Research and Segmentation: They conduct thorough audience research to gain insights into the target audience's preferences, behaviors, and interests. The Social Media Strategist segments the audience based on demographics, psychographics, and other relevant factors to tailor content and messaging accordingly, maximizing engagement and relevance.
Competitor Analysis: The Social Media Strategist conducts competitor research to understand the social media landscape and identify opportunities for differentiation. They analyze competitor strategies, content approaches, and audience engagement to inform the development of unique and compelling social media campaigns.
Collaboration with Cross-Functional Teams: The Social Media Strategist collaborates with various teams, including marketing, sales, and creative, to align social media efforts with broader business objectives. They ensure that social media campaigns support overall marketing initiatives and integrate seamlessly with other marketing channels.
Brand Voice and Messaging: They establish and maintain a consistent brand voice and messaging across all social media platforms. The Social Media Strategist ensures that the brand's tone, style, and values are reflected in the content and interactions, fostering brand recognition and trust.
Monitoring and Engagement: They monitor social media platforms for mentions, comments, and messages, proactively engaging with the audience. The Social Media Strategist responds to inquiries, addresses concerns, and nurtures positive relationships with followers and customers, fostering a sense of community and loyalty.
Performance Analysis and Reporting: They track and analyze key social media metrics, such as reach, engagement, conversions, and sentiment analysis. The Social Media Strategist prepares regular reports and presents data-driven insights to assess the performance of social media campaigns, identify areas for improvement, and make strategic recommendations for future initiatives.
Stay Updated on Industry Trends: The Social Media Strategist keeps updated with the latest social media trends, platform updates, and best practices. They continuously explore new features, tools, and opportunities offered by social media platforms to optimize campaign effectiveness and drive innovation.
By fulfilling these responsibilities, a Social Media Strategist plays a crucial role in developing and executing effective social media strategies that align with business goals, engage the target audience, and drive meaningful results for the organization.
5 Reasons to Invest in Professional Social Media Services
Most marketing departments recognize the value of social media. However, it is challenging to persuade company decision-makers to invest in a social media marketing and advertising campaign, which is why we have compiled a list of the five most compelling reasons to invest in social media.
Reach users in their favorite places
3.48 billion people use social media each day. Facebook alone boasts over one billion daily users, demonstrating social media's critical and influential role in a person's day-to-day life. If you are not on social media, you miss out on a valuable channel for connecting with your target market.
Build valuable brand awareness
Social media is an excellent channel for building brand awareness, which is a crucial part of the buying journey. With ads and organic posts, you can establish a relationship with new and current followers, eventually moving them to purchase your product or service.
Maintain customer loyalty
In the U.S., over 50% of users that follow a brand on social media are loyal to it. This fact is significant in demonstrating the value of a social media presence for businesses. With an active social media account, you get to interact with shoppers and maximize their loyalty to your company.
Encourage repeat purchases
With social media, your business can motivate followers to purchase from your company again. Posts about new products and limited-time promotions can drive users to buy from your business and even share your products or services with friends and family on the platform.
Generate valuable leads
Social media is also useful for B2B companies. Over 40% of B2B marketers have earned clients through Facebook, emphasizing the social media network's versatility. However, many B2B businesses overlook social media's value, making it an opportunity for you.
What Are the Benefits of Social Media Marketing Services?
Social media marketing services have many advantages for startups and established brands. With the right social media marketing strategy and campaign monitoring system, social media content marketing can lead to better SEO, increased search traffic, healthier customer engagement, and improved brand loyalty. Here are eight key benefits of social media marketing to facilitate your decision-making process:
Better Online Exposure
Social media marketing is constantly progressing and adapting, becoming an influential online marketing resource for businesses and brands. Social media platforms like Facebook, Instagram, Twitter, and LinkedIn can dynamically increase exposure and interest in your company and brand. With an effective social media content marketing strategy, you can generate more engagement and social signals, such as likes and shares, that enable you to interact with a broader online community.
High Search Rankings
Search engines such as Google and Bing now integrate updates, profiles, Tweets, and comments into their results pages, recognizing the significance of social interaction. The more people share your content across diverse social media channels, the more traffic they drive to your website and, ultimately, the better your search rankings.
Specific Audience Targeting
No matter how valuable and engaging your content is, it will not generate conversions if it does not reach the right audience. Marketing through social media allows you to identify and categorize your ideal customers by demographics such as age, location, gender, and online activities, among other metrics. Social media marketing experts verify and analyze your niche market to understand your target customers' online behavior and craft relevant ads and content that address their needs.
Improved Customer Reach
A Global Web Index study notes that approximately 54% of online users utilize social media platforms for product research. Furthermore, 49% of consumers rely on recommendations from social media influencers when searching for brands. With a powerful social media marketing strategy, you can boost your brand awareness and position your company in front of the right customers.
Complete Brand Control
Social media marketing packages are adapted to your specific needs and financial capacity, allowing you to have total control over your budget, branding, and social media content marketing strategy. Understanding how to use social media for marketing enables you to build and maintain an image that appeals to your target audience and ensures your B2B social media marketing game is always on point.
Enhanced Customer Trust
Learning how to use social media for marketing will allow you to develop a thought leadership brand and build deep, meaningful connections with your followers. Social media marketing agencies can share valuable content and engage in online conversations about your company and brand to keep a pulse on your target market. They can also use social media video marketing to showcase case studies, client testimonials, and other content that proves your brand's validity. These tactics are pivotal in gaining consumer trust and building meaningful relationships with your followers.
Multiple Marketing Options
Besides YouTube, LinkedIn, Facebook, and Instagram social media marketing, you can also use other social media marketing methods to promote your business. These may include WhatsApp, Messenger, WeChat, Tumblr, and Snapchat social media marketing. Social media marketing companies can perform in-depth business reviews, audience analysis, and competitor benchmarking to establish the most appropriate and profitable social media marketing platforms and techniques for your business.
Increased Profitability
Social media marketing for both small businesses and large enterprises is a cost-effective method for reaching your ideal customers without spending a massive amount of money. There are various social media platforms that allow you to showcase your products and services at a low cost. One of the key benefits of social media marketing is that it helps you reach an unlimited number of prospects across locations without undertaking additional work or incurring more expenses.
Strategies for Social Agencies
These seven strategies will help set your social agency apart from others and help you secure and scale new business.
Analyze Your Clients' Audiences
Analyzing each client's audience may seem obvious. Gone are the days of purely qualitative research and intuition. If you have access to data-driven insights, you should leverage them. One thing you will need to consider is the age of your client's target audience. If you are unsure of your client's demographic makeup, you can easily find out using social media analytics software. Another method for analyzing your clients' demographic audience is social media listening, as this will show you the demographics of your social media followers and the people on social media who are actively discussing your brand.
Coordinate with Other Agencies
The realm of agency marketing is incredibly competitive. However, that does not mean you should not collaborate with your peers. Agency marketers who team up and coordinate with other social agencies reap greater benefits than those that seclude themselves. Your inter-agency team may prove to be your best bet for optimizing your social media efforts since social media is often the glue that holds disparate channel campaigns together. For example, you may not be your client's activation agency. However, by coordinating with whoever is, you can develop a plan for capturing and repurposing user-generated content (UGC) from your client's events.
Join Partner Programs
Many partner programs offer exclusive benefits to help agencies scale their business. Some cool perks may include access to co-marketing opportunities with established brands; introductions to other agencies around the world; hands-on training and custom reporting to ensure happy clients; and specific resources created to help you succeed on social media. Look around for programs relevant to yours. If something seems like a good fit, try joining.
Pull Social Data for Case Studies
To close a deal as you pitch to a client, it is essential that you showcase past successes. Start by featuring a list of clients on your company's website, organized by name or in a vertical order to make it easy to digest at a glance. From there, build out case studies and customer videos featuring some of your top clients. An effective case study should tell the story of your agency's project with a client, highlight the challenges the client faced and your strategy for addressing them, show how your agency provided a tactical solution, and share data points around the results of your efforts. Be sure to include as much data as possible when creating case studies. Your potential clients will want to know how you have helped others succeed and the results that came with that success. If using a social media tool, it should be simple to pull data to show how you have improved your social presence month over month.
Co-Market with Other Companies or Agencies
If you have an "in" with a large agency or company, it could be an excellent opportunity to work with them on a piece of content that both parties could promote for a mutually beneficial lift in reach.
Scale Content with Your Clients
Depending on the services your social agency provides, you may spend much of your team's time coordinating with clients on what you should or should not post to social channels. Stay ahead of your content calendar with these two strategies.
Get pre-approved content in bulk:
If you can collaborate with your clients and identify a cache of approved creative resources, you can look for opportunities to repurpose that content when planning a content calendar. This content can then be housed in an Asset Library for quick access to relevant imagery.
Give clients access to your social tool for approvals:
If you are using a social media tool, you can invite client stakeholders into your account so they can become part of your content publishing workflow.
Get Clients Into the Reports
Clients want to keep their fingers on the pulse of what is happening with their social media campaigns and have easy access to data. Like getting your clients into your publishing workflows, you can also give them direct access to social media reports by inviting them into your social media tool.
Conclusion
Considering the rapid growth and digital advancements made on a daily basis, flexibility is your best friend. For all we know, I'll be back in a few months to talk about brand-new roles you might want on your marketing team.