Summary: Regardless of whether you're going to hire your own internal team or work with an agency, it's important to understand some of the key social media positions, skillsets and responsibilities you might need on your team.
Editor's Note: This blog was originally published in October 2019 and has been republished with new content in July 2023.
Pretty much anyone and everyone who has spent time building a social media presence online for a brand knows this one truth: It. Is. TOUGH. It's so much more than the daily tweet announcing your latest product launch. Those were the olden times of the social media world. These days, businesses - both small operations and large enterprises - require time and energy to truly thrive in the social space. Your social channels are no longer just online spaces to fill; now, they're places that help your business grow.
And since the social media space has evolved, so, too, has the professional landscape of social media marketing. Historically, a company's social presence often required only one junior marketer who was responsible for sharing (or re-sharing) insightful information across main social channels a couple of times a week. But today, successful social media strategies almost always require a team, sometimes a rather large team.
Below, I'll dive into 4 of the 8 key roles and responsibilities within many full-service social media teams.
"Who Should I Hire to Manage Our Social Media?"
This happens to be one of the most common questions I hear from business owners. And when we tell them that a great social presence will typically require more than one Marketing Coordinator on staff, the reaction is often one of surprise and confusion. But the truth is, underestimating the resources needed to execute a full social media strategy may not only inhibit your ROI but will harm your marketing operational processes while potentially putting a strain on employee bandwidth.
Additionally, the size of your social team will vary. This can depend on various factors, like budget for salaries, your overall digital marketing strategy, the workspace available, your marketing technologies, ad budget, etc. In other words, there's no standard formula for building a social media team; the right roles and responsibilities for your team should be defined by your particular circumstances.
Now, regardless of what your circumstances are, it's important to know what the main social media team roles are.
4 Key Roles and Responsibilities for Building Your Social Media Marketing Team
Regardless of whether you're going to hire your own internal team or work with an agency, there are some important roles you should know about. Let's take a look at some of the key social media positions, skill sets, and responsibilities you might need on your team.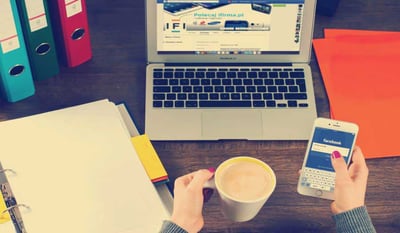 1) The Social Media Manager
At the helm of the social media team is the Social Media Manager. This individual is responsible for developing and implementing the overall social media strategy. They set goals, define the target audience, and identify the platforms best suited for reaching the company's objectives. The Social Media Manager also oversees the team's activities, ensures consistency in brand voice and messaging, and monitors the performance of social media campaigns.
Skills:
Your Social Media Manager should not only be familiar with your industry but also proactively keep up to date on the latest social media trends. This individual will have a direct impact on your overall marketing strategy, so solid knowledge of SEO, lead generation, social media management tools, technologies, and customer service is very important. Look for someone with an affinity for knowledge sharing and strong leadership skills, which the rest of the social team can align with and learn from. Excellent presentation skills will also come in handy as your Social Manager will need to be social (pun intended) and represent your business in front of customers and other stakeholders. Lastly, I also always recommend that the Social Media Manager have a creative background in both copywriting and an eye for design; this comes in handy for understanding and streamlining the rest of the team's operational processes.
Main Responsibilities:
Defines social media campaigns as they align with the overall digital marketing strategy

Sets team goals and deadlines

Establishes the company's online reputation by building brand and product awareness

Manages the social media team's performance and functions

Works cross-functionally and liaises with other key stakeholders (ie: other departments, marketing teams, or your marketing agency)

Potentially creates content (if you don't have a designated Content Creator)

Potentially promotes content or ad campaigns (if you don't have a Social Media Advertiser)
2) The Social Media Content Creator and Curator
You've heard us say this before: content is king. So this role is very important to your whole online reputation. Your Content Creator/Curator will manage your brand's social media voice; the information your company publishes or shares should be valuable, timely, and relevant to your audience. The Content Creator is responsible for crafting high-quality content that aligns with the brand's voice and resonates with the target audience. They develop creative concepts, write captivating copy, design visuals, and curate relevant articles or news to keep the audience informed and entertained.
Skills:
Aside from a strong background in copywriting, this individual should definitely understand the basics of SEO. Command over the main social media platforms and content management systems (CMS), like WordPress or HubSpot, is also key to this individual's daily performance. Strong research skills coupled with time management skills will also help this individual manage several social channels and effectively curate third-party content that their target audience will appreciate.
Main Responsibilities:
Content Creation: The Social Media Content Creator produces engaging and high-quality content for various social media platforms. This includes creating written posts, designing graphics, editing photos and videos, and developing other multimedia content that aligns with the brand's tone and messaging.
Content Strategy: They collaborate with the Social Media Strategist and other team members to develop a content strategy supporting overall social media objectives. The Content Creator ensures that the content plan aligns with the target audience's interests, addresses their pain points, and encourages engagement.
Visual Design: They have a keen eye for visual aesthetics and utilize graphic design tools to create visually appealing and cohesive content. The Content Creator designs captivating social media graphics, infographics, and other visual elements to accompany the written posts, enhancing the overall impact of the content.
Copywriting: They write compelling and concise copy for social media posts that grab the audience's attention and encourage them to take action. The Content Creator understands the nuances of writing for different social media platforms and adapts the language and tone to suit the platform and target audience.
Content Calendar Management: They collaborate with the Social Media Strategist to develop and maintain a content calendar that outlines the timing and scheduling of social media posts. The Content Creator ensures a consistent flow of content and aligns the posts with relevant events, holidays, or trending topics.
Trend Monitoring: They stay updated on the latest trends and topics within the industry and on social media platforms. The Content Creator identifies popular hashtags, emerging discussions, and viral content to incorporate into the social media strategy, enhancing the brand's relevance and visibility.
Engaging Storytelling: They possess strong storytelling skills and compelling craft narratives within social media posts. The Content Creator knows how to capture the audience's interest by sharing captivating stories, personal experiences, or user-generated content that resonates with the target audience.
Content Optimization: They optimize content for each social media platform by considering character limits, image sizes, and best practices. The Content Creator ensures the content is formatted correctly, utilizes relevant hashtags, and includes appropriate links and call-to-actions (CTAs) to maximize engagement and conversions.
Collaboration with Cross-Functional Teams: The Content Creator collaborates with other team members, such as the Social Media Manager, Community Manager, and Advertising Specialist, to align content creation with broader marketing initiatives. They provide input and support for collaborative campaigns, ensuring content consistency and channel integration.
Performance Analysis: They monitor content performance through social media analytics tools, tracking metrics such as reach, engagement, click-through rates (CTRs), and conversions. The Content Creator analyzes the data to assess content performance, identify trends, and make data-driven recommendations for optimizing future content strategies.
By fulfilling these responsibilities, a Social Media Content Creator plays a crucial role in developing compelling and visually appealing content that engages the target audience, strengthens brand presence, and drives social media success for the organization.
3) The Social Media Advertiser
If you're aiming to leverage paid ads in the social space, your team will need a specialist when it comes to an advertising strategy.
Skills:
Your social advertiser should have a deep understanding of social media platforms and strong budget management abilities. Additionally, a solid command of Excel and statistical analysis is essential to evaluating campaign performance. Confidence in taking calculated risks is another valuable skill set for advertisers since they will essentially set, monitor, and adjust ads in order to maximize your ad spend. Also, consider hiring someone with good content creation skills; an advertiser who can independently produce compelling messages for your target audience is an invaluable addition to any team.
Main Responsibilities:
Collaborates with the Content Creator and Designer to develop advertising assets for target customers

Defines and sets target audiences for social ad campaigns

Manages the social advertising budget for campaigns

Oversees A/B testing parameters and scheduling of the ads
4) The Community Manager
Building and nurturing a vibrant social media community is a key aspect of any successful social media strategy. The Community Manager plays a vital role in engaging with the audience, responding to comments and messages, and fostering positive interactions. They monitor conversations, address customer inquiries, and ensure the brand maintains a strong presence across social media platforms.
Skills:
Your Community Manager is essentially your brand ambassador and will have to learn everything about your brand and become familiar with the key, front-facing employees in your company. Copywriting skills should be strong; look for individuals who can produce copy that accurately reflects your brand's personality, be it witty, funny, contemplative, or strictly business-like and sober. Understanding the basics of social media tools and customer service are also key skills for this role.
Main Responsibilities:
Actively monitors social mentions and engages in conversations across social channels and web properties

Manages social listening tools (eg: HootSuite, BuzzSumo, Sprout Social)

Regularly builds brand visibility across social channels

Proactively builds a relationship between the audience and the brand

Collaborates with and manages external brand advocates
10 Social Media Services You Need
Here, we provide details about the ten social media services any business will benefit from.
Full-Service Social Media Package
There are many ways to bundle up your agency's services, but before you start bundling randomly, look at your buyer personas. They will give you valuable information about your target audience, what they are struggling with, and what they are looking for. From there, you can continue to create a full-service social media package that they will want. Smaller businesses generally mean a smaller budget. To reach smaller budgets, create an "essentials" package. If your client has an in-house team, they might not want a package that includes implementation and management.
Platform-Specific Social Media Management
This type of package focuses on one specific social media platform and would include everything your clients require for marketing on that platform without them having to do anything themselves. Every social media platform offers something different, so you need to consider which social media platforms you will offer. You will need to be an expert in each platform you offer, so ensure that the platforms you choose to provide are worth the investment for you and your clients.
Develop a Social Media Content Strategy
Research and analysis

Identification of target audience by platform

Content-specific goals and objectives

Plans for content distribution
Profile Creation and Branding
There are so many brands that do not put any thought into their social media profiles and branding—do not be one of them. If you are hiring an agency to handle your social media, make sure they offer profile creation and branding. This service helps brands get started right on social media with a profile that reflects who they are as a brand, making it easier for potential customers to find them on different platforms and know what they will be getting when they engage. Profile creation and branding is also an excellent social media service for agencies to start with since it is such a simple way to familiarize brands with your agency and how you work. Agencies can help brands create profiles on the right social media platforms and set up SEO-friendly profiles to make them easily discoverable.
Social Media Content Management
Some brands prefer managing their own social media content. However, this is also one of the most common social media services offered by agencies, so brands need to think about how hands-on they want to be. Wanting to control your own social media content makes sense. It is your account, your name, and your reputation. If you want to maintain control of your content without having to do the work of posting and scheduling your social media content, you can hire a social media marketing agency to schedule the content and maintain your social media presence for you. Here, you would provide the content to your agency, and they would then create the calendar and do the scheduling, so your brand would still have control over your social media content without the time investment of handling the account management.
Influencer Outreach
Find and engage with relevant influencers

Reach out to influencers

Organize promotional collaborations

Manage long-term influencer relationships

Report on influencer collaborations
Community Management
Add and remove members from the community

Moderate community content

Interact with users and understand their challenges

Solve queries and provide support

Conduct brand events

Gather customer feedback

Formulate and maintain community policies and guidelines

Moderate user interactions
Social Media Advertising
Facebook advertising is one of the most popular social media marketing platforms, but it is essential to focus on social media advertising for the platforms that make the most sense for your brand. If you are a B2B company, your best option might be LinkedIn advertising. If your target audience is predominantly Gen Z, TikTok advertising might be more suitable for your brand. Either way, expect to spend about 10%–15% for advertising management fees on top of your actual ad spend if you choose to go with an agency to manage your social media advertising.
Research and Analysis
Vital social media services do not end once content is posted and ads are run. Research and analysis are essential to ensure that brands reach their full potential on social media, including reaching the right audience, keeping up with and outperforming competitors, how influencer marketing campaigns, content, and ads are performing, and the general sentiment about the brand. Several social media listening and analytics tools can help brands track campaigns, and identify topics they should talk about, hashtags they should use, and where they should engage with followers. Keeping track of your performance will provide the data you require to adjust your campaigns to have a significant impact, so you are not just spinning your wheels.
Social Media Training
Despite the rise of social media over the past several years, some business owners may still not be familiar with it. While they likely use it in their personal lives, it is very different from social media marketing for business. Many agencies include social media training in their social media services to bridge this knowledge gap. This training could include teaching brands how to engage with followers using conversational language instead of industry buzzwords and jargon. Other social media training areas include creating a company social media policy, teaching employees how to become brand advocates, or even teaching brands how to build an in-house social media team.
In-depth: Social Media Service Features
Learn more about social media service deliverables in-depth to discover how they help grow your brand awareness, online following, and even sales.
Original social media posts
Gain new followers or engage current subscribers with unique and on-brand posts created for your business. Each month, your dedicated social media specialist will create 15 to 75 posts (depending on your plan) for your social media accounts. No posts will go live without your team's approval.
Custom images
Capture users' attention on Instagram, LinkedIn, Pinterest, and more with custom images for your social media posts. In coordination with the design team, a dedicated social media specialist can compile 6 to 14 images to boost the impact of your social media posts.
Cover and profile photo design
Improve brand awareness and send positive trust signals with a custom cover and profile photo design. If your social media accounts already feature a professional, on-brand cover and profile photo, a dedicated social media specialist can optimize these images for social media.
Social media network setup and optimization
Launch your social media marketing strategy with optimized social media accounts. If your company is new to social media, a dedicated social media specialist can create and set up a social media account for your business. Your company will have complete ownership of this account.
Social media account audit
Create a savvy social media strategy for your business with a comprehensive social media account audit by your dedicated social media account manager. They will review your social media campaigns, analyzing past posts, comments, and user engagement to develop a competitive and custom strategy for your business.
Brand reputation analysis
Discover your brand's value and reputation online with a brand reputation analysis by a dedicated social media specialist. They can browse social media for negative comments or posts about your company and provide recommendations for achieving a trusted reputation.
Boosted posts ad management
Do more on social media with up to six boosted posts. Your social media specialist will develop your custom ad campaign following audience research and discussions with your team on your company's goals.
In-depth competitor analysis
Get unmatched insight into your competitors' online performance with a detailed competitor analysis conducted by your dedicated social media specialist. They can spot competitor weaknesses and opportunities for your business, helping you launch the best possible campaign.
Dedicated social media account manager
Work with a dedicated social media account manager on your strategy. With their expertise and specializations, they will help your business make the most of its marketing and advertising strategy on diverse social media networks.
Data-driven social strategy
Receive a custom data-driven strategy for your social media marketing campaign. With advanced marketing technology featuring artificial intelligence and machine learning software, a dedicated social media specialist can develop a strategy that achieves your goals.
Daily social media monitoring
Trust your social media strategy to perform well with daily monitoring by your dedicated social media specialist. Daily, your social media specialist will check your social media accounts, monitoring the performance and interactions of the posts they produce for your business.
Monthly consultations
Meet with your dedicated social media specialist each month to discuss the performance of your campaign. During your consultation, your social media account manager will also discuss potential optimizations and improvements to your campaign to maximize your strategy's return.
Transparent monthly reports
Get a monthly report on the performance of your social media strategy. A dedicated social media specialist can review this report with you and make it available for your team to access afterward. All reports are 100% transparent.
Advanced marketing technology
Gain access to some of the industry's most advanced marketing software, which features machine learning and artificial intelligence technology. A social media specialist can develop a data-driven campaign based on industry-specific data.
Optional social media services
Access additional social media services, such as contests, with an aggressive social media strategy. Businesses that target up to two social media platforms, for example, companies active on five social media networks, can host up to one contest every year.
Why Partner with a Social Media Management Agency?
If you are researching social media marketing services and agencies, you have many compelling reasons for partnering with a social media management company. They can provide your business and team with dozens of advantages, which can make or break your campaign.
Get industry-leading expertise
With an experienced social media management provider, your company gains immediate access to some of the industry's most talented professionals. Overseeing your social media management internally, however, comes with a learning curve. You will need to learn all the ins and outs of different social media platforms. You will also have to research best practices, techniques, and strategies for various networks, resulting in an extensive trial-and-error period, which can test company decision-makers patience. If your team does not deliver fast results, it could lead to business leaders withdrawing their support (and your budget) for social media marketing and advertising. Investing your budget into a professionally managed campaign, however, can help your team demonstrate the value of social media quickly. You can start driving results sooner, which can prevent financial waste.
Maximize your in-house resources
Whether you are marketing or advertising your business, you want to make the most of your budget. A trusted and respected social media management provider can help your company earn an impressive return on investment (ROI) from social media. It is a time- and cost-prohibitive process to develop, launch, and maintain a social media strategy in-house. You must spend a significant amount of time monitoring your plan's performance and preparing for next month's content. Partnering with an experienced provider of social media services is a clever (and easy) solution. With a partner, you can receive a custom strategy and eliminate the hassle of producing, launching, and optimizing your strategy, which alleviates your team from the responsibility of dedicating time and resources to creating a full-fledged strategy in-house.
Access advanced marketing software
For companies outside the marketing industry, it is a significant investment to purchase marketing automation software. However, in today's digital landscape, it is a necessity for businesses that want to succeed in online marketing. That is why many companies now partner with full-service digital marketing agencies that offer social media marketing services.
Manage your time
Companies that manage their social media strategies in-house often have a dedicated team member for the task. However, for many organizations, that is not a feasible or reasonable use of company funds, which is why most internal marketing teams invest their resources into social and digital marketing agencies. With a social media optimization company, you can gain access to an expert in social media marketing and marketing on specific social media platforms, such as Facebook, Twitter, or LinkedIn. You also pass a series of time-intensive tasks off to someone else, which will allow you to focus on what you need to finish. For many marketers, this can be a win-win situation.
Improve your social media marketing ROI
Whenever a company invests in social media marketing, it is looking for something in return, from increased brand awareness to improved sales. You want to deliver on their expectations, which is difficult with a limited social media marketing experience. That is where an experienced social media service provider can help. If you are serious about partnering with a social media management agency, focus on agencies that emphasize their clients' results and successes. They can provide the expertise, tools, and strategy for delivering a leading-edge campaign that achieves your company's goals. Plus, they do not require a significant amount of your team's time, which lets you remain productive.
Conclusion
Before we reconvene in a few days to discuss the next group of roles on a social media team, the key takeaway I want to leave you with today is this: building a social media team can be as complex as the strategy itself. After all, the number of marketing technologies and innovations has more than quadrupled in the last decade; naturally, the anatomy of a marketing department has evolved as well.
You can read part two of this article here. If you need help to develop your social media strategy and building your social team, WSI can help. Contact us here for a consultation.