Summary: If you want to grow your business - or even just your personal brand - on the Internet, you need to start attempting to understand social media.
If you're new to social media marketing and feeling overwhelmed, you aren't alone. Chances are you initially treated social media like a door-to-door salesman - if you ignore them long enough, they'll go away. But unlike that salesman, social media isn't going anywhere. Social media also doesn't depend on you and will continue to flourish whether you participate or not.
If you want to grow your business - or even just your personal brand - on the Internet, you need to start attempting to understand social media.
With that in mind, here are a few things (tools, tips, tricks) you can do to help ease into the wacky world of social media:
Start Small
There's no sense in burning yourself out before you know what you're doing, so when you decide to give social media a try, don't immediately sign up for every social media platform this side of Pinterest. Start small. Dip your toes into the water to test the temperature before you dive in.
The easiest way to do this is by selecting one platform and only branching out once you get the hang of it. No, you don't need to get thousands of followers on Twitter before you add Facebook to the mix, but at least make sure you feel comfortable with your social persona before developing a second one.
Tip: Use your intuition and start with the platform that makes the most sense to you. It doesn't have to make a lot of sense; choose the one you think you understand the best (hint: it doesn't matter if you actually understand, it'll still make things psychologically easier).
Be Yourself
Don't worry, social media isn't all that. There's nobody special you need to impress. The easiest thing to do is be yourself. If you're serious, be serious; if you aren't funny, don't try to be funny. The worst thing you can do is come across as insincere - just be genuine, and you'll connect with the same kinds of people you'd connect with in real life. Also, just like life, social media is a two-way street. If you make it all about you and don't engage with other people, you'll soon realize that the only one who is listening to you is you.
Tip: Social media is real life. It's one giant meeting place that's perpetually ongoing. If you treat social media as a real place with real people, and you act like the real you, you'll have success.
Do Some Research
Once you get a little more comfortable in your own social media skin, you can begin actionably enhancing your presence by doing some basic research. Here are two free tools you can use (and how they can help):
Followerwonk
If you use Twitter, delve into Followerwonk first, as it'll help you connect with more of the people you're looking for and identify influencers that could potentially amplify your messages.
Search. Using the search function, you can search for people by their interests, job title, location, or anything else you think is relevant to the whole reason you're using social media in the first place. Whether you're looking to make friends, find customers, or establish yourself as a thought-leader, it makes sense to seek out people in your relevant niche.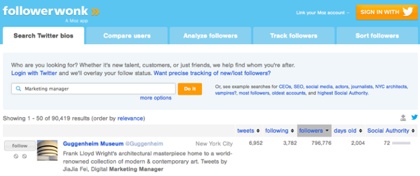 Along with full bios, the results of your search will also return the number of tweets, followers/followings, and the age and social authority of the account. An account's social authority is of particular importance and you definitely want to keep any influencers in your niche on your radar.
Compare. Comparing the data for up to three users is another way to find people who are likely relevant to the conversations you want to have. For example, when comparing soft drink accounts for Pepsi, Coca-Cola, and Dr. Pepper, you can see that 369 Twitter users are followed by all three accounts. It's not hard to figure out that if you like soft drinks, or you're in the soft drink industry, you should be engaging with these 369 users.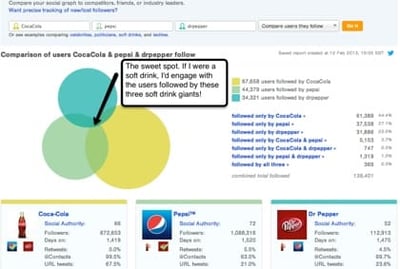 Tip: If you're logged into your Twitter account before you run the comparison, you'll be able to follow and engage with Twitter users right from the search results page!
Analyze. Once you build up some followers, plug in your account and get all the juicy details on both your followers and the users you're following. Things like a breakdown of your followers' social authority, their most active hours, and follower/following numbers is a great way to gauge the effectiveness of your activity and maybe make a change if you aren't happy with the results (like tweeting more during the peak activity hours of your followers, for example).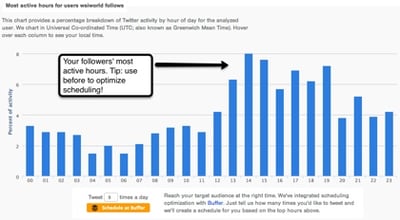 Tip: If you have a competitor or even a friend whose Twitter account you envy, analyze their account and see if you can pick up on some of their habits.
Bonus Tip: Read on to find out about Buffer, an app that integrates with the Follerwonk tool to take easy action on the data you get!
Social Crawlytics
Social Crawlytics is a simple way of getting a handle on the things people like to share. This helps in two ways a) by giving you insight into the kind of content you should be sharing and b) by showing you where and what of your competitors' content is being shared.
All you have to do is sign up and enter a domain (it could be your own or a competitor's) and you'll have social crawlytics for all pages on the domain and the number of shares per each popular channel. Simple, but so insightful.

Become More Efficient with your Social Media Marketing
As you start to become a social media expert, you'll quickly go from being intimidated by the learning curve to overwhelmed by how much time you're investing. That's where Buffer comes in. Like other social media scheduling tools, Buffer allows you to space out your updates across multiple platforms throughout the day from one location. But Buffer takes it a step further by allowing you to preset the timing of your updates (so you only have to do it once) and also giving you the option to add to your queue from wherever you're reading.
Tip: There are other alternatives to Buffer, most of which are just as helpful. Find something that works for you and go with it; it'll be a huge time-saver and organizer.
Go Forth and Be Social
Social media isn't as complicated or ineffective as its detractors like to think, and the only way you'll ever really know is if you try it out for yourself. But here's the thing: ease into it!