Sometimes marketing can seem like a crapshoot. We've all been there: Your campaigns seem to work and you seem to be targeting the right audience, but there's a lack of definitive data to prove it.
Well, what if you could eliminate the guesswork from marketing entirely? What if you could leave behind the one-size-fits-all messaging and double down on relevant campaigns? What if you could more effectively segment and market to highly specific target audiences?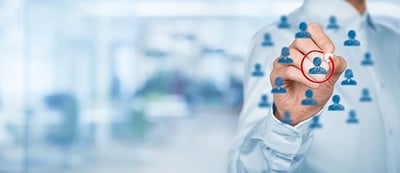 You're in luck, because, yes, you actually can do all of this. And no, it's not magic – it's a marketing automation strategy. Combine that with buyer personas, and you'll discover that the (marketing) world is your oyster. This combination lies at the heart of the best digital marketing campaigns. Don't worry, we'll get to that.
A Little Background...
Just in case it's a new concept for you, let's review some marketing automation basics. Marketing automation is a suite of tools designed to help marketing professionals like you drive more leads, nurture those leads, and turn them into sales. Typically it will include features like behavioral-based email marketing, anonymous site visitor tracking, advanced analytics and reporting, sales tools, and more.
Pretty cool, right? Well, it's about to get even cooler. You've probably established buyer personas for your business and/or your clients. You can use those personas right in your marketing automation platform to revolutionize the way you communicate with your prospects. When you use the Personas feature in your marketing automation platform, it allows you to:
More effectively target your customer audiences
Escalate the power of your dynamic emails and landing pages
Improve your segmentation processes
Increase your open rates, click-through rates, and conversions
Personas are designed to help you easily identify and segment customer audiences so that you can produce and syndicate the right content. Leveraging personas in your marketing automation platform is a great way to increase conversion rates. Follow the latest marketing automation trends as they develop to ensure that you are always putting the best tools to the best possible use.
Craft Personas to Streamline Messaging
As a marketing professional, you probably already have a pretty clear idea of the buyer personas that make up your audience, so I'm sure your interest is piqued enough to take a deeper dive.
Here's a common scenario: You're preparing a new campaign, and you need to create different sets of messaging that speak to different buyer personas within a company. One is Cindy CEO, concerned about revenue growth for her business. Also on your list is Morgan Marketing Manager, focused on online lead generation. Finally, you have Sammy Sales, who is interested in sales tools.
Each buyer persona reflects the prospect's defining traits, allowing you to easily speak directly to Cindy, Morgan, and Sammy with custom messaging. After you have created your own relevant buyer personas within your marketing automation platform, you're ready to start segmenting your leads into these categories. The key to effective buyer persona development is careful target audience analysis.
Most platforms allow leads to self-select a buyer persona by simply answering a question via a form. (It typically looks something like "I'd describe myself as…." with 4-6 choices as responses.) For leads already in your system, you can assign personas based on their attributes and tracked behavior. Either way, your messaging will evolve into highly personalized content that interests the prospect and serves his/her needs. It doesn't take a rocket scientist to see how significantly this affects conversion rates.
Key Areas of Impact
So, are you ready to unleash your marketing power? Personas pack a powerful punch in several crucial areas.
1. Hyper-charge your content.
Forget the "spray and pray" email strategy. Stop wasting your time creating generic blogs and landing pages. Utilize personas to capture your prospects' attention. Send the right message to the right person.
2. Simplify automation tasks.
Most of us like to improve processes. So rather than setting up custom fields, which can take time, segment by personas for quick results.
3. Pinpoint your target audience.
When you craft a marketing message, you want to hit the bullseye. Personas let you hit your target every time with relatable and personalized messages so that nothing you send will fall flat. It's about time that all your creativity and effort reach their maximum potential.
Get That Human Touch
Today's digital marketing landscape can feel robotic and impersonal. Personas do away with all that and bring back the human side of marketing. After all, connecting with people is what marketing is all about.
So if you're ready to deliver content that boosts your conversions and ROI, and helps you build the best digital marketing campaigns, start crafting your own buyer personas today.