Too many people think email marketing is dead, which is simply not true. There are also a great number of email marketing campaigns that break the rules for all the wrong reasons. Whatever your current stance on email marketing, you should be aware of the rules and best practices. And make no mistake, with the presence of the CAN-SPAM Act and the newly introduced CASL, there are consequences for breaking these rules.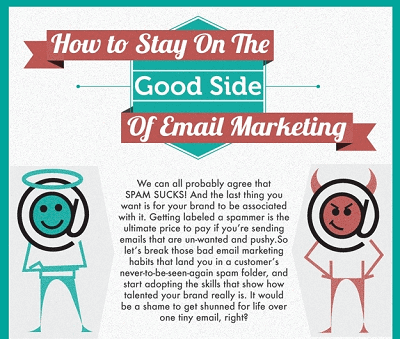 With all of these laws and best practices in mind, we understand that email marketing can be tricky. But fear not, our latest digital marketing infographic is here to teach you how to stay on the good side of email marketing. There's always going to be a temptation to do something easier and more convenient with your email campaigns. That little voice telling you to buy an email list or send a massive, spam like message to non-subscribers. Don't do it, or at least stop and think before you do because just one wrong email can tarnish your brand's reputation.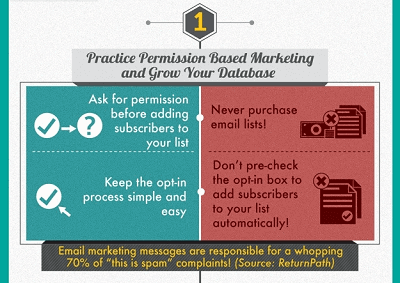 If you're doing the right kind of email marketing then you'll know that permission is extremely important. Your subscribers should know that they are on your list specifically because they intentionally signed up to receive your messages. If you've gamed people in any way and they're unsure of why they're getting your messages, you're definitely on the wrong side of email marketing. Make sure your opt-in process is super simple, but never pre-check the opt-in box to automatically add people to your list. It'll do more harm than good in the long run!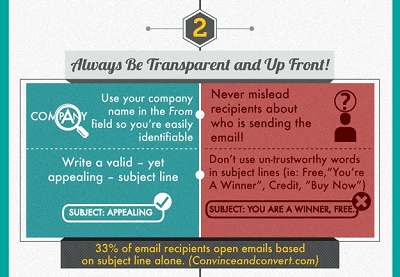 In keeping with the theme of permission, being honest and up front with your subscribers is another key to success. Yes, you need to be creative and appealing with your subject lines. But you should never mislead your subscribers with your headlines or about who the email is from. It's just not worth any gains you think you're making; as soon as people realize you're being dishonest with them, you'll lose their trust forever.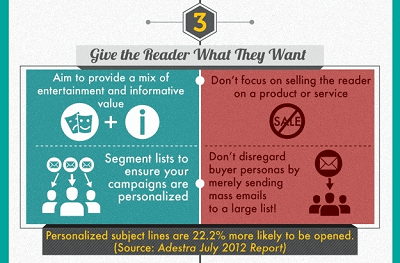 We've talked about this before, but it's worth repeating: your subscribers have asked to receive content from you because they believe you have interesting and relevant things to say. Your job is to give them what they not only want, but also expect. Instead of focusing on selling your readers a product or service (even if that's what your business is), aim to provide a mix of valuable information and entertainment. As you'll learn, highlighting value while being interesting is the key to many digital marketing tactics.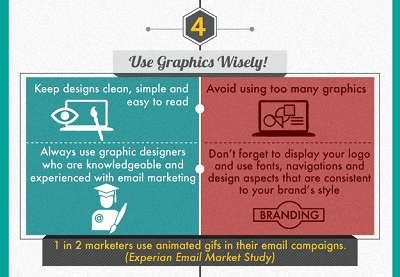 That little voice telling you to cut corners with your email marketing will undoubtedly whisper about using as many graphics as you possibly can. And given that the Internet is such a visual environment, this temptation to lean heavily on graphics is understandable. However, if you use experienced designers and keep your designs clean and simple, you can still create visually pleasing email campaigns.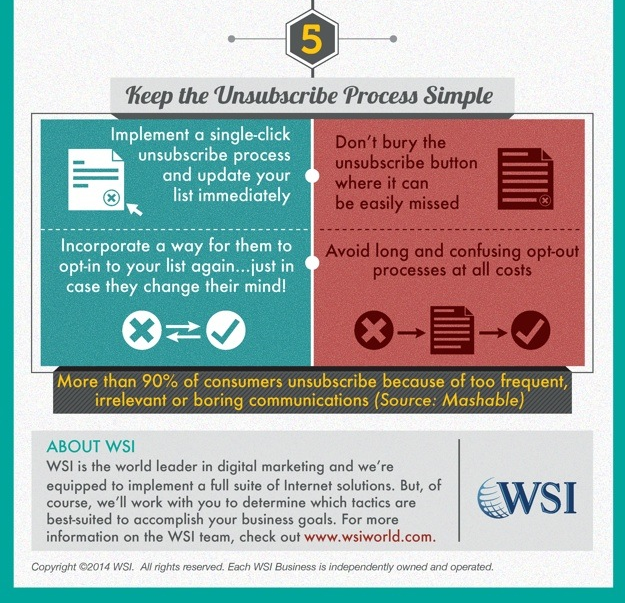 Similar to the way becoming a subscriber shouldn't be a trick, unsubscribing shouldn't be a game, either. If a person no longer wants to receive messages from you - regardless of the reason - then they should easily be able to unsubscribe from your list. Don't hide the unsubscribe button - do the opposite. Making your unsubscribe button present and obvious is a great way to give your customers a choice and build trust over time. If and when people do unsubscribe, make sure there's an easy way for them to opt back in if they change their minds!
So there you have it - that's how you stay on the good side of email marketing. Here's the full infographic:
Share This Image On Your Site
Please include attribution to wsiworld.com with this graphic.