Technology is taking the world by storm. April 15, 2014 marked the first 24-hour window in which American consumers could purchase Google Glass. While Google's latest tech toy might seem like a giant step up from our current devices, it's really just the next big thing in a long line of products that are literally changing the way we live our lives. Oh and the way we do business.
You know that whole social media craze - Facebook, Twitter and the like - people said was a fad? Yeah, it's not going anywhere anytime soon. And on top of that, it's altering the environment in which companies and professionals conduct their business. 47% of B2B companies are using one of Facebook, Twitter or LinkedIn, and that number is only growing. As more and more sales teams turn their attention to social selling, the companies and sales teams still ignoring it are falling further behind.
Social media is garnering the attention of sales teams because it generates leads, fills pipelines and ultimately helps close more deals than traditional selling techniques. It's also more efficient and undoubtedly more fun than making 100 scripted phone calls a day. The fact is that 65% of a salesperson's time is spent on tasks other than selling so at the very least, social media can help speed up the research process.
How you ask? Well that's what we're here for - check it out: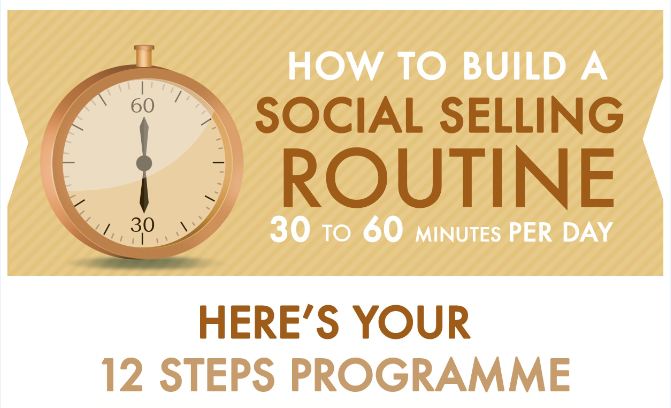 We understand that social media can seem daunting and making the switch to social selling is no easy task. So our marketing and sales departments put their heads together to come up with this helpful infographic that'll ease you into building a social selling routine in just 30 minutes a day!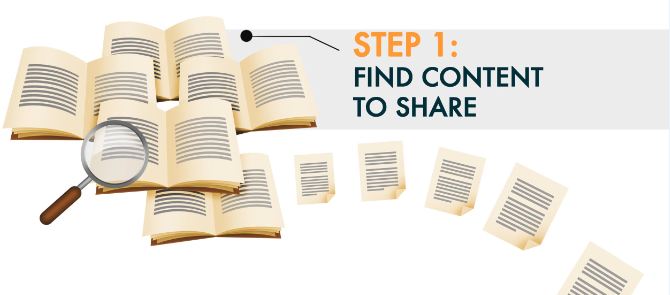 Whether it's social marketing or social selling, content is a vital part of your social media strategy. The goal of being on social media is to establish yourself as an expert, which will be mighty hard to do if you never extend yourself beyond 140 characters or a status update. It'll be most effective if you publish and share a steady stream of content that you (or your marketing team) have created, but it's also possible to become a trusted source by being an amazing content curator. Whatever you do, don't just share anything and everything you read. Only recommend content that provides high quality value and insight for your potential customers.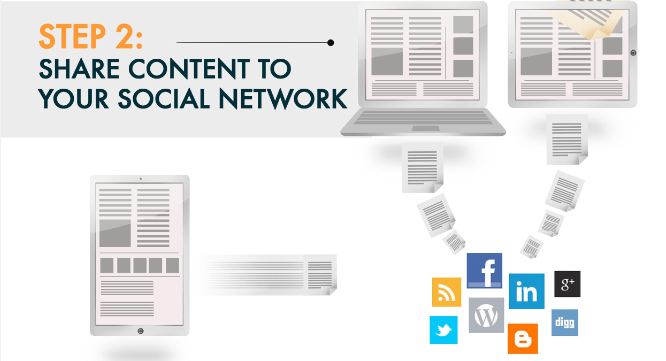 The next step in the social process is sharing any content you deem worthy across all of the networks where your audience is active. Depending on the platform, you may want to share content more than once (for example, at different times of the day for your Twitter audience). In between posts that share content, you'll also want to be fully engaged in general conversations and always attentive to any inquiries you receive. You should also seek to make connections with anybody who shares your common interests, even if those interests fall outside the business realm. More connections mean more opportunities down the line!
One of the great things about most social media platforms is that they have built-in tools to help you measure and manage your profile. For example, a free LinkedIn account allows you to see the users that have recently viewed your profile, which can be a huge source of information for you. If you're sharing content aimed at helping potential customers, it makes sense to assume that anybody who finds your content useful will, at the very least, check out your profile. From there, you can then review these profiles and based on their information, make an educated guess as to whether they are a potential customer. If they are, you can safely refer to them as a hot lead!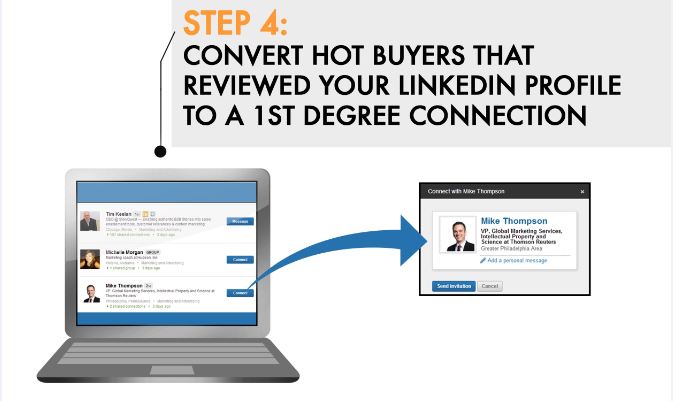 This one is easy! Once you've narrowed down the list of people who have viewed your profile to sure-fire potential customers, make them first-degree connections. That way they'll start to receive your updates and also feel more comfortable reaching out to you. On other social networks, make an effort to connect with people who have liked, shared, retweeted and +1'd your content.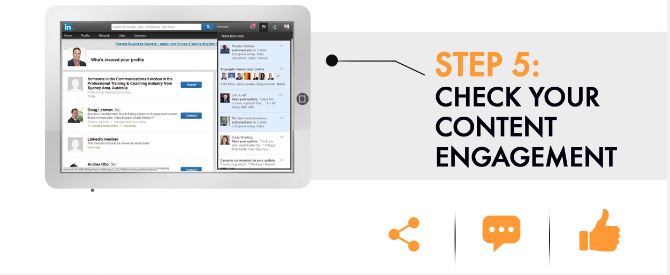 Rather than simply adding, following, circling and connecting random people, your content should help you engage with a more qualified group of people. This means that you always need to check and monitor the engagement your content is generating. First and foremost, you should make sure that your content is grabbing the attention of the right personas - if it's not, you better head back to the drawing board. If you are attracting the kind of engagement you want then just keep it up; the more people reading your stuff the more leads you'll generate.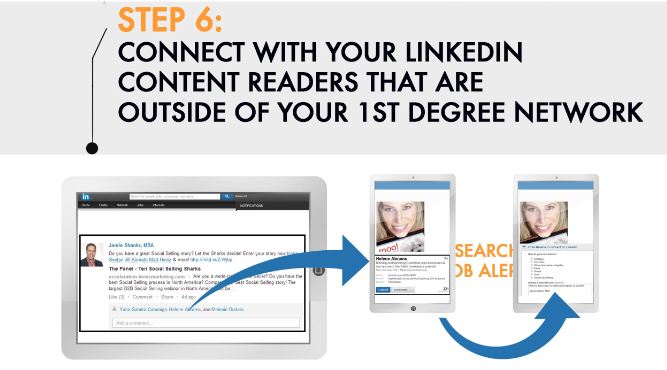 As mentioned above, you should connect, follow, circle and add any readers of your content that aren't in your inner circle yet. Not only will this help extend the reach of your content, it'll also keep you top-of-mind for the potential customer and let them know that you're on the ball. In many cases, these little details increase the chances that a potential customer contacts you for information before you initiate anything with them. Remember, customers can generally access all the buying information your company has to offer without you, but they still need somebody to answer questions and help them make a decision - that's where you come in!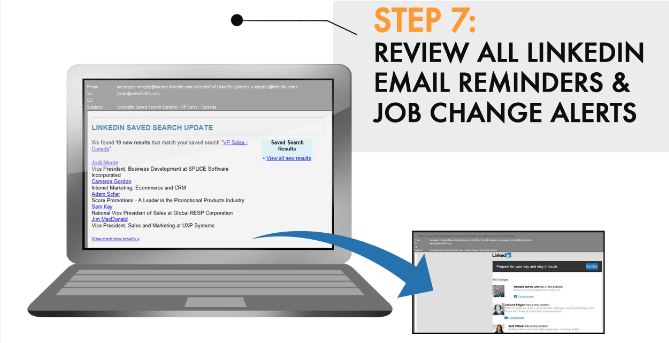 When it comes to social media, it isn't all about sharing content and having conversations. Sometimes, it pays to observe your target audience. By listening instead of talking, you'll be able to gather intelligence and learn a few things about the people who you're dealing with. Whether it's checking your email for specific updates or congratulating a connection on their promotion, a little bit of attention to detail can go a long way.

This step involves separating your contacts into different groups since you may want to send targeted messages. On LinkedIn, for example, you can save your got leads into a group using tag folders. This practice sounds good in theory, but be careful not to overdo it - you don't want to drive people away by spamming their inbox.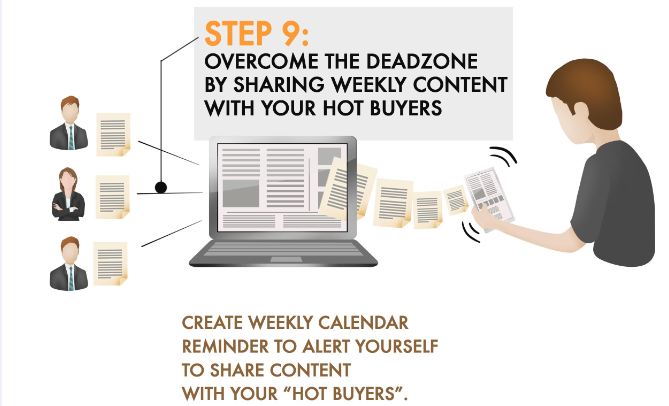 Your hot leads are your most interested potential customers at any given moment, so that's where you want to focus most of your attention. One of the ways to do this is by making sure you share any new content with your hot buyers. But again, don't overdo it. They're already interested so if you're patient, they'll often come to you.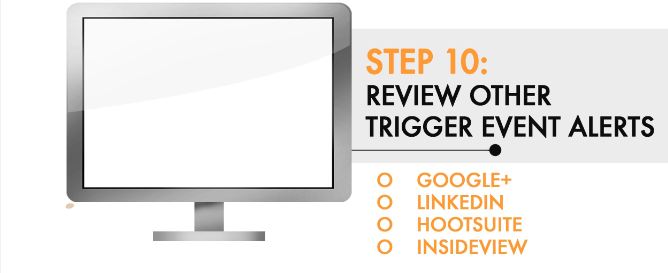 It's important to stay on top of every potential lead across all your social platform - you don't want to lose out on a sale with a slow response. Do a quick review of all other trigger even alerts at least once a day (but more often if you can find the time).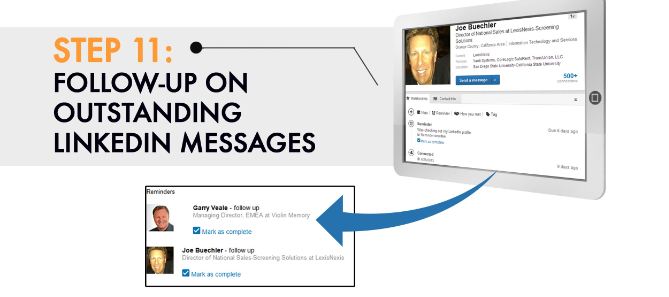 In additional to staying on top of event alerts, you also need to make sure you are following up on outstanding messages. This means responding to inquiries as well as trying to touch base with the potential customers who you have lost contact with.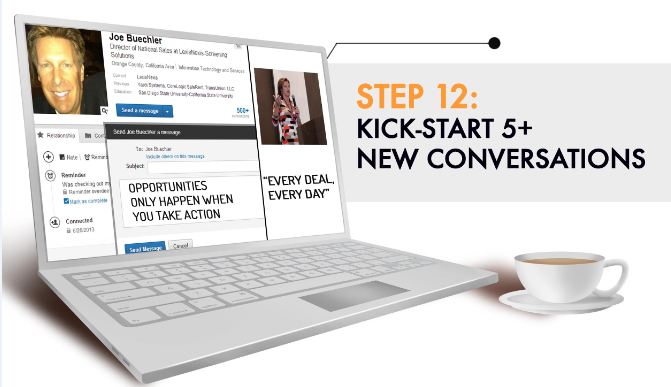 Perhaps the most important step of building your social selling routine in just 30 minutes a day is kick-starting at least five new conversations during that timeframe. Whether it's a chat with a really hot lead or simply good morning and a comment about the weather, making connect with a variety of people every day is vital to success. Think of it like planting little seeds that will one day grow into full blown sales.
And that's it! It's not all encompassing - there's a lot more to social selling than this routine - but it's certainly a good place to start. Here's the full version of the our social selling infographic:
Share This Image On Your Site
Please include attribution to wsiworld.com with this graphic.