In an age with such a constant and high-speed flow of information, timing and relevancy are vital to achieving digital marketing success. One of the most effective practices for quickly producing a stream of material with fresh messages is collaboration. Whether it's brands collaborating with agencies, freelancers or just different in-house teams, multiple people working together saves time and often produces higher-quality material.
The Benefits of Crowdsourcing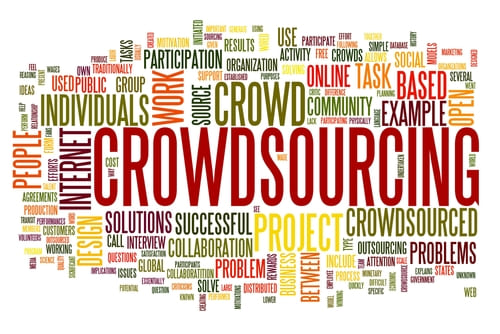 An often overlooked and undervalued method of collaboration - even for big brands - is crowdsourcing. An efficient collaboration tool, crowdsourcing allows brands to get the insight of many while essentially working with one individual. While this agreement might sound one-sided, crowdsourcing is actually beneficial for both brands and individuals. WSI has effectively crowdsourced a number of graphic design projects, which we've found were a success for both our company and the designers we worked with. Here's why:
Benefits for Brands
Fresh Perspectives: in running a design contest, we get to define our brief, submit our brand's style guide and then watch as numerous talented designers go off in their own stylistic directions. It's a really great way for brands to add fresh and unique twists to their material for a low cost.
Complete Control: when you run a contest and have multiple designers competing against each other, you're in complete control. Sometimes, working one-on-one with a company can be difficult. If a designer isn't listening to you in crowdsourced contest, you simply eliminate them. Most designers know this, so they'll do exactly what you ask, since they know that's the best way to get your business.
Wide Variety: crowdsourcing design work is great because you'll have no shortage of options. In our contests, we've always had multiple concepts to choose from and been really happy with the end results.
Benefits for Designers
Attract Clients: by entering contests and competing for business, designers are making connections and getting their name out on the market.
Build a Portfolio: if a designer doesn't win a contest, they can still use their final submissions as part of their portfolio. Even though they didn't receive payment, they still did work that can be used to attract different clients.
Gain Experience: by competing in different contests, designers are also honing their skills, which is a lot better than just sitting by the phone hoping for it to ring.
99designs

In 2013, WSI used design crowdsourcing site 99designs for two projects. We were extremely happy with the results of both contests. The first contest was used to create our WSI Lifecycle™infographic and is featured in our "How The WSI Lifecycle™ Helps Your Business" blog post. The infographic was exactly what we were looking for and helped us outline how our internal process leads us to do optimal work for our clients. The results of the second contest have yet to be unveiled but we love the finished product and are confident that our network is going to really enjoy the design. We chose to use 99designs for these projects because we needed a quick turnaround and wanted the chance to see what a new and fresh perspective would add to these assignments.
Overall, using 99designs for our design crowdsourcing has been a fantastic experience. The pool of designers participating in 99designs' contests are immensely talented and we've been beyond satisfied with the finished products we've received. And the price! The quality of the designers we've worked with is exceptional for the price. Using the 99designs interface is very easy and running a contest from start to finish is a simple exercise. The support team at 99designs is also very attentive and helpful should you have any questions or concerns about running a successful contest.
5 Keys to Using 99designs for Successful Collaboration
Now that WSI has run a few successful 99designs contests, we feel like we've got a solid blueprint for getting the most out of crowdsourced designs. Here are our secrets:
Use Contest Options: we suggest holding a private, blind contest with a guaranteed prize. This means that the contest can only be viewed by registered users, and designs are only visible to the contest holder (you) and the designer who submitted them (this is to avoid designers copying each other). Guaranteeing that you will choose a winner at the end of the contest (this isn't a requirement) will generate more interest and design submissions.
Extend Your Contest: this isn't an available option, but if you feel like you want to extend your contest beyond the initial 'open' period, just contact support and tell them you'd like more time. Usually, if you're running a healthy contest, they'll have no problem extending your contest by a few days.
Invite Designers to Your Contest: this one takes some time but is well worth it in the end. Instead of just hoping that designs enter your contest, start perusing other contests and looking at designer profiles. If you like what you see, send the designer a direct message saying you like their work and would love for them to participate in your contest. This works a high percentage of the time and will help generate a lively contest.
Rate All Designs: 99designs makes it extremely simple to rate designs on a scale of 1-5, so at the very least, you should do this for all entries so that designers know where they stand.
Give In-Depth Feedback: the most important part of running a successful 99designs contest is giving proper, in-depth feedback. This can be very time-consuming but it's a vital part of ensuring that you receive a finished product that you're totally happy with. This is the area where working with multiple designers to complete one design can become a bit of an issue, but if you can put the effort in and narrow it down to 3-5 solid concepts, you'll end up with an amazing design for a great price.