Company Recognizes Online Marketing and Advertising Solution Provider for its Service Excellence and Performance
Toronto, Canada, July 10, 2018 – WSI, the world's largest network of Digital Marketing Consultants, presented its Top Performing Supplier Award for 2017 – 2018 to US-based online marketing and advertising solution provider, ReachLocal during its awards gala in Montreal, Canada. The Top Performing Supplier recognition is one of the seven WSI award categories that recognize service excellence within the company's global network. Steven Dollar, Partner Development Manager, and Tehsin Daya, Sr. Director, Strategic Partnerships, accepted the award on behalf of ReachLocal at WSI's Global Convention that was attended by 300+ network members.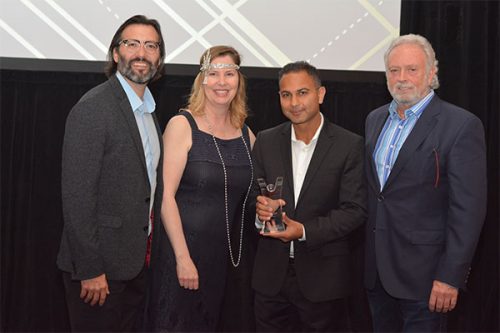 In the picture from left to right: Steven Dollar, Partner Development Manager (ReachLocal), Valerie Brown-Dufour, President (WSI), Tehsin Daya, Sr. Director, Strategic Partnerships (ReachLocal), and Mark Dobson, Co-Founder (WSI)
Mark Dobson, Co-Founder of WSI said, "Let me extend my heartiest congratulations to the ReachLocal team on winning this award! ReachLocal has been one of WSI's most valuable business partners for quite some time. They have consistently delivered excellent service to our clients and, therefore, this honor is definitely well-deserved. I take this opportunity to wish the team continued success in the years to come."
The WSI Gala Awards are organized by the company's Home Office in Toronto, Canada and are a great demonstration of the excellence and innovation that makes up the WSI network. The seven award categories include the WSI People's Choice, Top Contributors, Top Consultants, and Growth Star Awards. For the full list of award winners this year, please click here.
ReachLocal, a USA TODAY NETWORK company and a part of Gannett Co., Inc. (NYSE:GCI), helps local businesses grow and better operate their business with award-winning lead generation and conversion technology and expert service. ReachLocal is headquartered in Woodland Hills, Calif., and operates in four regions: Asia-Pacific, Europe, Latin America and North America. For more information, visit www.reachlocal.com.
About WSI:
WSI is the world's largest network of Digital Marketing Consultants with its head office in Toronto, Canada. WSI Digital Marketing Consultants have helped over 100,000 businesses with their online marketing strategies. By using innovative Internet technologies and advanced digital marketing tactics, businesses can have a WSI Digital Marketing Plan tailored to their individual needs and help elevate their Internet presence and profitability to new levels. In 2017, WSI received 7 Awards at the Annual WebAwards organized by the Web Marketing Association (WMA), bringing their total WMA Award tally to 75. With the support and cooperation of its customers, Consultant network, employees, suppliers, and charitable organizations, WSI as a collective organization is dedicated to helping make child poverty history through its global outreach program www.makechildpovertyhistory.org.

For more information about WSI, please visit our website at www.wsiworld.com and check out the digital services we offer to our clients.