Successful Napa 2017 Digital Summit Is One More Feather in WSI's Cap!
The world maybe going digital, but connecting with people face-to-face, networking the old fashioned way, exchanging cards as well as crucial industry knowledge, and having some fun along the way can inject a whole lot of personality into our business interactions. WSI, the world's largest network of Digital Marketing Consultants, has played a leading role in facilitating discussions on various digital marketing topics via its events since its inception. These events not only serve to reinforce the leadership position of the WSI brand while demonstrating our global knowledge to local prospects and clients, they also provide an excellent platform for collaboration and discussion on current digital marketing advancements.
The latest in a series of such events was the Napa 2017 Digital Summit that was held by WSI Digital Marketing Consultant, Andreas Mueller-Schubert in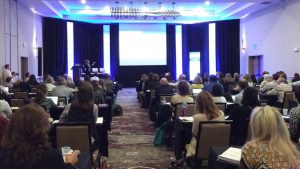 collaboration with WSI's Home Office on March 28th in Napa Valley (California, USA). The attendee profile was eclectic and saw representation from a wide range of industries including hospitality (hotels, bed & breakfasts, restaurants, tour companies, event organizers), wineries, real estate agencies, manufactures and retail to name just a few. Energetic presentations, lively round table discussions, and a high level of audience interaction marked all the sessions of this day-long event.
The speaker line-up was powerful and the topics discussed were topical, relevant and solution-oriented. All the presentations were customized to answer questions relevant to businesses based in Napa Valley and were, therefore, highly relevant to the event attendees. Speakers at the event included:
Jessie Hochhalter (Sales Strategy and Enablement) with Google delivered a presentation on "The New Customer Journey" which focused on how brands can win people over in the "moments that matter" remain competitive and increase sales in this constantly connected, mobile-first world.
Taigh Smyth (Platform Account Lead) with Centro spoke about growing a business with programmatic advertising.
Andrew Dod (Chief Marketing Officer) with SharpSpring was all about the changes in the buyer's journey and how companies need to adapt to widen their marketing funnel.
Joy Ghosh (Vice President Enterprise Sales) with reputation.com discussed the expanded role that ratings and reviews will play in online visibility and user experience.
The day ended with some lively round table discussions where attendees sought the opinions of their industry peers and digital experts on actionable digital strategies to apply to their marketing plans. The event was so successful that Andreas is already making up plans for several other events and presentations in the upcoming months. Do stay tuned!