Summary: WSI has a new Chief AI Officer. Learn more about how this strategic move showcases WSI's AI leadership and underlines our commitment to staying at the cutting edge of technological innovation.
WSI, a premier provider of digital marketing solutions serving over 150,000 businesses worldwide, is thrilled to announce the addition of Robert Mitchell as the company's Chief AI Officer (CAIO) and head of our artificial intelligence division. This strategic move highlights WSI's dedication to our mission of "Unlocking a world of possibility for those we serve," emphasizing how AI unlocks unprecedented business potential now and in the future.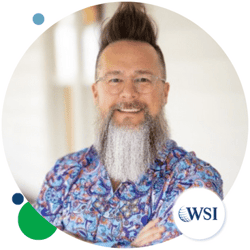 Robert Mitchell's two-decade journey in aiding the growth and development of renowned brands equips him to empower our WSI Consultant and Agency network. With the AI landscape evolving rapidly, Robert's expertise will be instrumental in guiding our consultants, ensuring they are well-equipped to lead our clients, especially small and medium-sized businesses, on their AI journey.
A passionate supporter of AI, Robert's extensive expertise in Machine Learning and Natural Language Processing complements WSI's tagline (Embrace Digital. Stay Human) perfectly. His vision is centered on empowering businesses to leverage these groundbreaking digital advancements, enabling them to stay competitive while also preserving a human-centric relationship with their customers.
Robert's strengths span a broad spectrum, but his visionary leadership in AI promises an exciting future for WSI, our consultants, and our extensive client base. With our consultant-led approach, unique collaborative network, and over 25 years of stability, expertise, and support, we are poised to lead the digital transformation of businesses globally with AI at its core.
When asked to comment on Robert's edition to the WSI Leadership Team, WSI's President, Valerie Brown-Dufour, remarked: "Robert is bringing a much-needed mix of industry expertise and AI insights to WSI. His contributions will be invaluable in enhancing our consultant-led approach, and his addition to the WSI team reaffirms our commitment to leading our clients into an AI-centric future while staying rooted in our mission. The integration of AI into the business landscape is filled with opportunities. With Robert's guidance, our consultant and agency network will ensure our clients not only adapt but also thrive, utilizing AI to enhance their business processes and customer relations."
In his new role, Robert will be pivotal in ensuring our WSI Consultant and Agency network is equipped with the latest in AI, Machine Learning, and Natural Language Processing. This will empower them to guide our clients effectively on their AI journey. Our clients can trust us to keep them at the forefront of the digital age, all while preserving that essential human connection.