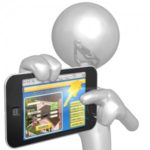 To interact with your website visitors is very powerful in any website and digital marketing strategy. Traditional media like TV, newspapers and radio can customize responses to each visitor as there is no interaction involved. There's a couple of ways to make your website interactive so that your visitors and future prospects can communicate with you.
View a short list of tips below on how you can bring interactivity on your website.
Use a pricing wizard to create customized pricing for custom products or services.
Create interactive forms for new customer sign-ups, newsletter registrations, polls, contact forms, etc. Have people submit an application online for just about anything.
Searchable databases are an excellent way to market anything that you keep in your inventory. Create a database of products you want to sell. This could be anything that you would like to market.
Create a directory of area businesses or a member directory if you are an association. Each member can have their own unique page complete with descriptions, photos and links to other websites.
Qualify leads using online tests, assessments and surveys. Getting a visitor to answer questions about a particular area of their business will help show a need that they may not have realized existed.
Collect testimonials from satisfied customers and place excerpts in a database. Design an area on your home page that will rotate through these excerpts every 4-5 seconds.
Provide a marketing tip or an inspirational to a box on your home page. Allow visitors to register and then email the tip of the day directly to their inbox. This is a great way to build up an email list.
Display a portfolio of your designs, photos of products in a searchable photo gallery. Potential customers can see examples of your work.
If you have a blog, list the RSS feed of your latest blog posts on your website. This can also provide a valuable link back to your website.
There's a couple of Twitter widgets available that you can use n your website to show your "Tweets", followers, etc. Use one of these widgets or add your Twitter profile RSS feed to your website so that people view or respond to your Tweets. Find a couple of Twitter widgets here that you can include on your website: https://twitter.com/goodies/widgets
If you have a Facebook fan page – incude your Fan page badge on your website or display your followers, messages, links, etc. Find a couple of Facebook widgets here that you can include in your website:https://www.facebook.com/facebook-widgets/