In September 2017, the Web Marketing Association announced the winners of its annual WebAwards competition. Since WSI, the world's largest network of Digital Marketing Consultants, started submitting its nominations in 2007, it had won multiple awards across categories each year. WSI's total award tally is now 75!
One of the winning entries from WSI was a website project consulted on by Napa Valley-based WSI Consultants Andreas and Georgia Mueller-Schubert, and their team at WSI Next Gen Marketing. Their client, Green Stock Solar received the Energy Standard of Excellence Award based on their performance across seven website criteria: design, ease of use, copywriting, interactivity, use of technology, innovation, and content.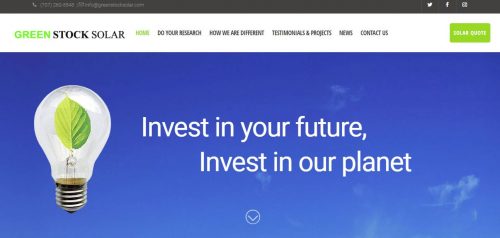 Here's the story of how it all started. When Green Stock Solar began looking for an agency that could help them upgrade their website, they had some specific requirements in mind. The client wanted a local Napa company that was an expert in their field, with the ability to quickly respond to any questions they might have about the project and digital marketing in general. They also wanted a team of experts with whom they could develop a strong ongoing relationship and continue working even after the completion of the initial website project. Green Stock Solar representatives had not had great experiences before they met with WSI. Jae C, Project Manager, Green Stock Solar says, "When we began looking for a digital marketing agency, we encountered a host of web developers who boasted that they are the best and promised all sorts of things while speaking in jargon that even the smartest average person finds hard to understand."
After a year-long search, the client found their perfect match in WSI. Here was a local digital marketing agency with access to global, world-class solutions that the Green Stock Solar team wanted. And thus, the WSI NextGen team led by Andreas and Georgia Mueller-Schubert bagged the project.
WSI approached the Green Stock Solar project with a clear understanding of its goals and the client's requirements. Jae C. praises the team by saying, "It was so refreshing! No hard-sell here. Andreas and Georgia, a very likeable couple, were not only local, very knowledgeable and professional with a world-class technical support team, they were also quite flexible and understanding of our needs and timing. Also, they have a way of explaining the requirements of the Internet in a manner that was understandable!"
Months after the new Green Stock Solar website was launched, the client continues to work with WSI on their SEO campaign and is thrilled with the excellent reviews their website redesign is receiving. Not only are people commenting on how good the site looks, but analytic reports show that it has improved in performance as well. Thanks to WSI's work, the Green Stock Solar website has a significantly lower bounce rate, and potential leads are spending more time going through their web pages. In other words, the website is doing exactly what the client always wanted it to do!
While the industry recognition in the form of the WMA WebAward is a matter of great pride to the WSI team at WSI Next Gen Marketing, the client's satisfaction is even more rewarding. Green Stock Solar has no problem recommending WSI to anyone who requires its services. Jae C. vouches for them saying, "If you are local to Napa and have any questions about the Internet and your web presence, don't hesitate to give them a call, and they will be more than happy to answer them."
You can read more about WSI's award-winning projects. To speak with a WSI expert in your region, contact us today.