In September 2017, WSI's entry, Centre Dentaire Pierrefonds became the proud recipient of a Healthcare Provider Standard of Excellence Award at the 2017 WMA WebAwards. The WMA WebAwards is a standards-defining competition held annually by the Web Marketing Association that sets industry benchmarks for website designs. The winning project was an informative, bilingual website build by Chris Murray, a WSI Digital Marketing Consultant from Montreal, Canada for the Quebec-based dental clinic, Centre Dentaire Pierrefonds.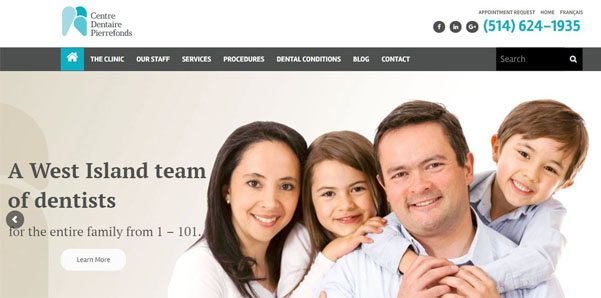 Centre Dentaire Pierrefonds is a comprehensive dental clinic, bringing together a group of experienced and skilled West Island dentists committed to providing personalized patient-centered dental care in a modern and friendly environment. The clinic, located in the heart of the West Island, just 20 minutes from downtown Montreal, Laval, and Vaudreuil consists of a staff of dentists, oral hygienists, dental assistants, and administrative staff to cater to patients with various dental care requirements.
The team from WSI worked on building the bilingual Centre Dentaire Pierrefonds website for over six months. The scope of work included hiring a professional photographer to capture the newly constructed building and clinic interiors, like the reception, waiting room, treatment and examination rooms and even the dentists. The team was also responsible for engaging the services of a professional copywriter and translator to create content for the project.
While the client was thrilled with the final product, the WMA Healthcare Provider Standard of Excellence award was the "cherry on top" for the WSI team. Chris Murray, WSI Digital Marketing Consultant, was ecstatic about the project and tells us, "Working with professionals like Centre Dentaire Pierrefonds was an absolute pleasure for our team. At WSI, we always strive to be creative and to present the essence of an organization in a solid website - one that is the foundation for their digital marketing strategy and will deliver consistent leads for their business".
The client is equally happy with the work that the WSI team delivered. Says Dr. Jean-Pierre Bedirian of Centre Dentaire Pierrefonds, "Working with Laurie and Chris and the rest of the WSI Montreal team has been and continues to be a wonderful experience. From the very beginning, they learned about who we were, listened to our needs, and developed a beautiful website consistent with our mission, and our image, and our message. Thanks, WSI!"
A good story, with a happy ending, just as we like it.
To check out all of our 2017 WMA award winning projects, watch our video below. To speak to a WSI expert in your region, contact us today.