It's official! We're not only the world's largest network of digital marketing thought leaders, but we're also a Top Franchise Brand! Entrepreneur magazine has ranked us #104 in its first-ever list of Top Franchise Brands.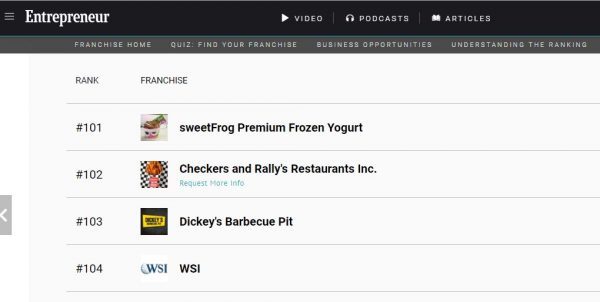 As an innovative digital marketing agency with offices in over 80 countries and an impressive client portfolio, we've always owned some serious bragging rights. WSI certified Digital Marketing Consultants have helped more than 100,000 businesses grow by leveraging our global expertise, a specialized partner network and proven methodologies. However, as a leader and a pioneer, we know that we have a responsibility to maintain that position and keep moving forward. Therefore, while on the one hand, we continue to grow our client base and our services, on the other, we continue to work at expanding our network by fulfilling the entrepreneurial dreams of people who want to transform their lives. Throughout our journey of more than two decades, WSI has empowered many aspiring business people by bringing them into the WSI network and training them up to become expert WSI Certified Digital Marketing Consultants.
Since our inception, WSI has set the standard for white collar franchising, and we're proud to be among an elite group of companies in the franchise industry. Our pride has received an industry validation with this recent Entrepreneur magazine ranking.
A joy shared, is a joy doubled, so goes a Swedish proverb. News as happy as this is worth sharing, don't you agree? Also, our brand's UVP "Global knowledge, local results" is underlined with the security in knowing our services in local markets are backed by an international network and corporate presence. Every client experience and digital solution benefit from local expertise as well as global collaboration amongst our team and strategy partners. This means that our client's don't need to struggle to decide if they want to work with a local agency or larger company; they get the best of both worlds. If that's the kind of digital marketing expertise you need for your business, click here to get in touch with a WSI Digital Marketing Consultant operating in your region.
To read more about this ranking, or to check out how WSI can make you an independent Digital Marketing Consultant, please visit us here.