Toronto, Canada, June 25, 2015 – WSI, the world's largest network of Digital Marketing Consultants, and a passionate advocate of children's welfare, participated in World Vision's Kili Climb 4 Kids expedition from June 16-24, to help fight child slavery. In addition to being a corporate sponsor of the Kili Climb 4 Kids initiative, WSI also participated in the actual challenge of climbing Mt. Kilimanjaro, Africa's tallest mountain. The goal of this campaign was to highlight the cause of child exploitation and raise $150,000 that would go towards World Vision's No Child for Sale Campaign and the Women and Girls in Crisis Fund.
WSI's Co-Founder, Dan Monaghan, along with Team World Vision, and celebrity ambassadors that included JD Scott, Cheryl Bernard, and Rick Campanelli, completed the entire trek of 5,895 meters in 9 days. This arduous, but extremely enriching trek that started at the rainforests of Lemosho Glades on June 16th, took the climbers via Shira Plateau, Southern Flank, Barramco Wall, and Barafu Route. Climbers had ample opportunities to witness closely the grandeur of Africa as they moved ahead on the journey. Prior to the actual climb, the team visited the Ketumbeine Village in northern Tanzania to see first-hand the cause that they are supporting.
The company enlisted the support of its expansive network of employees, Digital Marketing Consultants, and partners to support the team of climbers as they completed this tough challenge. WSI network members donated to the cause and closely followed Dan Monaghan and other team members' journey on Twitter, Facebook, and Instagram.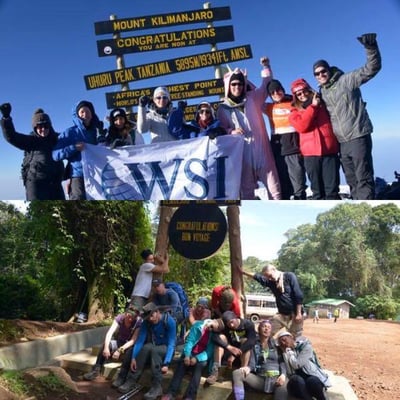 Commented Mark Dobson, Co-Founder, and CEO of WSI, "Child slavery is inhumane, a crime that needs to be eradicated from the face of the earth. It is also bound very closely together with child poverty. With MCPH, we have already started taking steps to make the changes we wish to see in the world. Our participation in the Kili Climb 4 Kids is a further step in this direction. Our entire network congratulates Dan and the rest of the team on making the successful climb. We are extremely proud of his involvement in this initiative!"
WSI, a leader in the digital marketing industry has taken social responsibility very seriously since its very inception. It has taken definitive steps to end child poverty through its charitable foundation, Make Child Poverty History (MCPH). MCPH is an ongoing global initiative to mobilize resources and bring together individuals and organizations in an effort to eradicate child poverty, one child, one village at a time. As part of his visit to Africa, Dan Monaghan will also be visiting some of the villages where WSI has sponsored children through MCPH.
About WSI – we simplify the Internet:
WSI is the world's largest network of Digital Marketing Consultants with its head office in Toronto, Canada. WSI Digital Marketing Consultants have helped thousands of small and medium-sized businesses realize their online marketing potential. By using innovative Internet technologies and advanced digital marketing strategies, businesses can have a WSI Digital Marketing System tailored to their individual needs to elevate their Internet presence and profitability to new levels. In 2013, WSI was the proud recipient of 5 Standard of Excellence Awards at the Annual WebAwards Competition organized by the Web Marketing Association (WMA). With the support and cooperation of its customers, Consultant network, employees, suppliers, and charitable organizations, WSI aims to help make child poverty history through its global outreach program.
For more information about WSI's offerings and business opportunities, please visit our website. For digital marketing tips, strategies and ideas, visit our blog.