Editor's Note: This post was originally posted in April 2018 and has been updated with additional content in May 2022.
If someone were to ask you what the most crucial goal of B2B marketing is, how would you answer?
There is a pretty high likelihood that you answered lead generation, and yes, lead generation is extremely important. But what about the clients you already have?
I get it. It's so easy to fixate on capturing new business. After all, most marketing budgets and resources are spent moving leads through the funnel. But as enticing as recent sales are, they shouldn't distract us from working to keep existing customers as well. Boosting customer retention by just 5% can actually increase your revenue by 25% to 95%.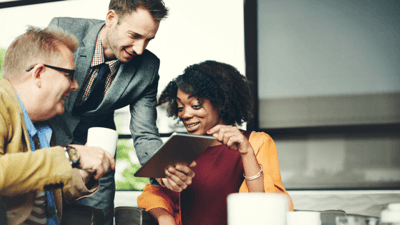 But retaining clients is easier said than done. Whether you have a small shop with limited resources or if you're part of a big operation with lots of customers, it can be tough to set a post-sale strategy in place.
Here are some tactics designed to help you get more out of your existing relationships and drive serious revenue in the process.
Get to Know Them
If you want to build long-term relationships with your clients, you'll need to earn their business every day after the first sale. But how do you effectively communicate with them?
By knowing them better than anyone else does.
Think about it like a dating relationship: if you connect with someone after the first date, you'd be inclined to spend more time with him or her. Eventually, as you build your relationship, you'll gain much knowledge about your significant other. That personal understanding is a huge part of a long-term partnership. B2B clients aren't so different (albeit much less romantic).
Make it a priority to learn things about your current clients, like:
Challenges they struggle with
Their long-term goals
Type of results they're looking for
How exactly do you gather all this essential information? While one-on-one interfacing is excellent, there's not always time for that when things get busy. Here are some simple ways to get some insight.
Collect Data With Forms: When an existing customer fills out a form on your site, you can use her responses to personalize your relationship. Customize form fields to ask critical questions about her interests, business details, etc. Plus, with a marketing automation platform, you can always trigger an email to follow up post-form-fill, keeping your business top-of-mind.
Surveys: Get direct feedback from your clients by collecting data with surveys. Marketing automation platforms typically integrate with apps like SurveyMonkey, SurveyGizmo, and others to make managing the response data easy.
Website Tracking: How often does your client visit your site, and where does she spend her time? Does she linger on pages that feature certain services or products? Track your client's site visits with website tracking to understand her behavior better. This way, you can target your interactions based on her interests.
Stay in Contact with Email Marketing
There's no faster way to turn off a customer than to sell her a service and then fall off the face of the earth… only to reemerge when you're ready to sell her something else. This is where your email marketing becomes about more than building a funnel for initial sales.
The essence of retention marketing is to stay in continual contact and not just reach out when you're trying to pitch a product or service. Send regular emails, keep them up to date on what's happening with your business, and add as much value to the relationship.
Pro Tip: You've most likely set up an email drip series for your prospects, right? So consider setting up an automated email drip for clients post-sale. This could be a casual check-in from an account manager, an email offering additional services, or even your company newsletter.
By maintaining a regular cadence in your communications, you're poised to keep your clients around for the long term. When the time comes to sell them something else, your customer will already be warmed up and ready to hear what you have to say, and you'll see conversion rates from your emails increase.
Prioritize Customer Experience
67% of customers mention bad experiences as a reason for churn, but only 1 out of 26 unhappy customers complain.
Customer experience should be a top priority. But If a client reaches out with a service request and doesn't hear back from your team for a week, or if your team's response isn't helpful, it doesn't bode well for your retention rate.
So how do you ensure your customer service experience is excellent?
Respond to any support inquiries in a timely fashion. Be specific with your team about timing. For example, you could set a company policy to respond to clients within 24 hours. Punctuality is an easy way to enhance the customer experience dramatically.
Develop clear guidelines of how customer service issues should be addressed. Research best practices and share them with your team. Train your support staff to respond courteously and offer helpful answers and results to clients. Always go above and beyond to make sure your customers feel heard and acknowledged.
Determine the logistics. You'll also want to implement a customer service system that makes sense for your business. For example, is it practical to offer a live chat option for your clients to reach out? Should they fill out a help ticket? Should they send an email? Should they call? Knowing what system works best for you and your team will help you elevate your customer service to the next level and make sure nothing falls through the cracks.
Use Your Content Marketing to Win Them Over
It seems counterintuitive, but one of the best ways to get your clients to buy more from you is by giving them things for free—specifically, content.
Offering great content to your clients accomplishes a couple of essential things. It establishes you as a thought leader and shows clients that you're invested in providing value – without asking for anything in return.
Do you have an eBook or white paper that your current customers would find valuable? Share it with them. Do you have a blog that is regularly updated? Encourage subscriptions. Are you hosting a webinar? Invite your current clients to register.
At the heart of it, your content is a conversation you're having with your customers. Stay relevant and continue the conversation by regularly offering helpful content. When you add that value, you'll become an indispensable part of their business, and not working with you will cease to be an option.
Make Client Nurturing the Centre of Your B2B Marketing
The bottom line is you need to be putting just as much effort into customer retention as you are into customer acquisition. The biggest key to customer retention is focusing on your relationships. If you're constantly thinking of ways you can improve and nurture your relationships with your clients, the retention will happen naturally. And in the meantime, these strategies we've discussed will help supplement your retention marketing efforts.
Key Metrics to Measure your Customer Retention Rate
While you are thinking of ways to improve and nurture your B2B client relationships, it is helpful to measure the customer retention rate. This information indicates whether you are doing well in your attempt to retain customers or losing high-value customers. It provides perspective by measuring results over time, which informs your B2B marketing.
There are three fundamental types of metrics you can use to measure customer retention rate. They are customer retention, churn, and customer lifetime value. There are free tools available to assist with these calculations.
Customer retention rate. The customer retention rate is the number or percentage of customers that remained loyal to your business over a specific period. To calculate the customer retention rate, choose the period you want to measure, then identify the following:
Number of customers at the start of the period (S)
Number of customers at the end of the period (E)
Number of new customers added during that period (N)
To calculate the customer retention number, deduct the new customers (N) from the end-period customers (E), then divide it by the start-period customer numbers (S).
The number formula reads: E – N / S
Customer churn rate. The retention rate is the number of customers that continue to do business with your company. The churn rate is the number of customers your business lost during the same period. The calculation frequency of your retention and churn rates depends on your business volume. If you have a lot of customers, monthly tracking is sensible, but if your business is small, quarterly monitoring is sufficient.
To calculate the customer churn rate, choose the period you want to measure, then identify the following:
Number of customers at the start of the period (S)
Number of customers at the end of the period (E)
To calculate the customer churn, deduct the end-period customer number from the start-period customer number (S), then divide it by the start-period customer numbers (S).
The number formula reads: S – E / S
Customer lifetime value. The lifetime value measures the revenue generated by a single customer and must be tracked monthly. To calculate the customer lifetime value (CLV), you need the customer's average revenue amount over a year (A). For the customer average revenue amount, divide your gross annual sales by the number of unique customers in the same year.
Then establish how many years your customer has been with the business (B). Multiply the customer average revenue by the years your customer has been with the business to get the customer's lifetime value.
The number formula reads: A x B = CLV
Creative Strategies to Retain your Customers
To retain your customers, you must look at the full customer experience. What does your B2B client think and feel when engaging with your business or brand? What are their perceptions of your business? What do customers experience when they engage with your employees? Here are some creative strategies you can use to retain customers.
Solve problems with human interaction
Customers get frustrated when they cannot get hold of someone from your business to talk to about their problem when they must explain the problem repeatedly to different people, and when they are referred to a website or frequently asked questions page to solve the problem themselves. Train and empower your employees to resolve customers' problems. And if possible, let the same employee engage with the customer until the problem is solved. Follow up on a management level with your B2B client when necessary.
Multi-channel support options
Some customers prefer not to engage on a personal level. Offer them the opportunity to engage via multiple channels such as a website, email, chat, or a mobile app. For business-to-business, however, a personal connection is the most effective.
Timeliness
Good customer service means replying to a query, request, or complaint within 24-hours. Even if it is simply an email that confirms you received their correspondence. Whenever possible, give a timeline for resolving the problem, and keep the customer informed at set intervals on how it is progressing.
Personalize engagement
Acknowledge loyal customers by their name. Use analytics to personalize engagement and alert them of promotions or special offers they might be interested in. Reward them with loyalty programs. Try to anticipate future challenges your B2B clients might have and suggest new solutions.
Use social media
Social media offers great ways to engage with customers and show a more personalized side of your business. Some customers turn to social media platforms with questions, complaints, or product issues. Change negative perceptions with good customer service that shows your brand listens and cares.
Examples of customer retention by leading brands
Leading brands use their quality service, user experiences, products, and services to maintain customer retention. Use these examples for your marketing strategy and influence the purchase behavior of your B2B clients while retaining them.
Amazon is expert at suggesting related products. When customers buy from them, they learn about their likes and preferences. This information highlights related products a customer might be interested in.
Starbucks has a great rewards program that encourages customers to return by giving special offers, exclusive access, or discounts. It rewards customers for doing business with the brand.
Southwest Airlines use social media to assist customers who had a negative experience or need fast assistance. By prioritizing customer service on a platform such as Twitter, their quick reply turns a potentially negative situation into a positive experience.
CVS Pharmacy knows that customers respond to marketing messages with content that speaks directly to them. They use personalization in their rewards program email marketing campaign by including offers and coupons on products the customers previously purchased.
Canva, through its Design School, shows its customers the brand cares about helping them. The school offers step-by-step videos, how-to guides, and resources that help customers use Canva products while honing their graphic design skills.
Expedia collects customer feedback via an automated system. It is essential to know how customers feel about your brand. Use surveys, customer interviews, and other feedback to gain insight into their likes and dislikes of your brand.
Ring sends a welcome email to customers that purchase their product, where they also share information on setting up the product and using all its features. Reconnect with B2B customers after their purchase as it makes them feel valued and appreciated.
Do you want to see how you can use email marketing, content marketing, and SEO to boost your B2B marketing? Contact WSI.